Kettle Brand Offers NEW Farmstand Ranch and Parmesan Garlic Potato Chips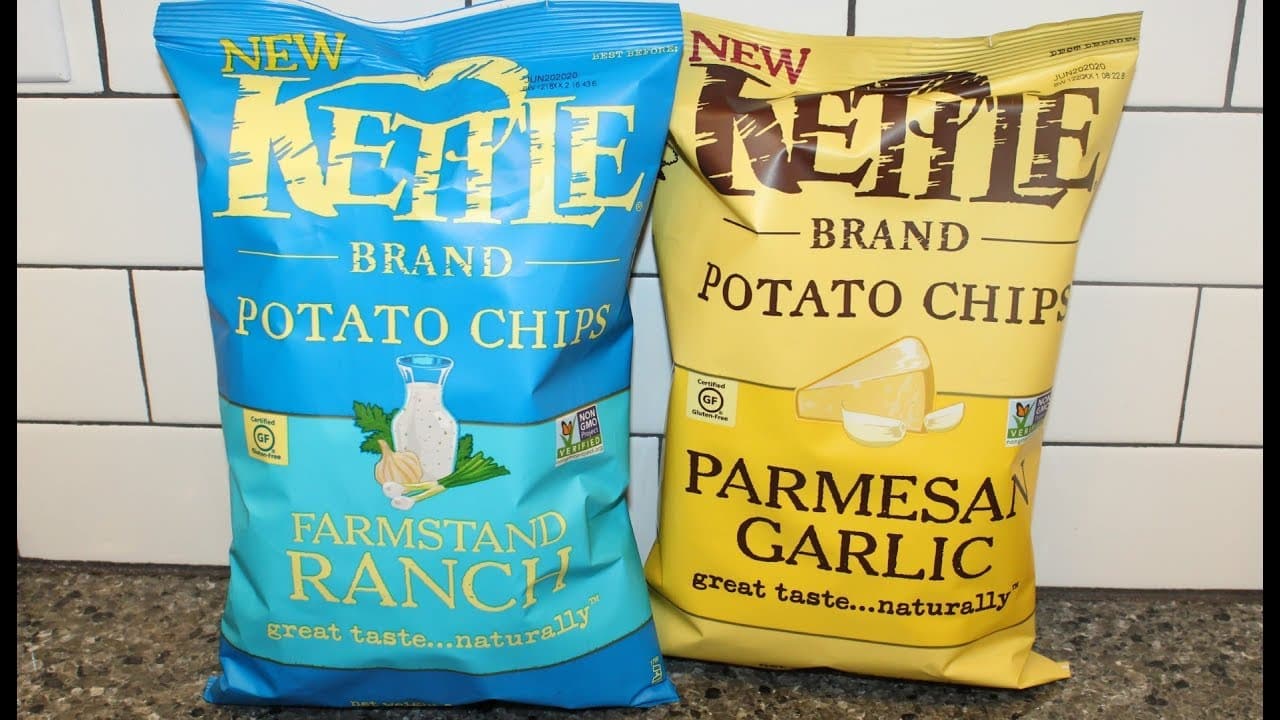 Are you searching for a healthy potato chip to offer to your micro market or vending customers? If so, you should consider the new Farmstand Ranch, and Parmesan Garlic potato chips, from Kettle Brand. 
Their new Farmstand Ranch and Parmesan Garlic chips are delicious because they're made from real cream and parsley and have bold flavors. These chips are delicious are a wonderful authentic potato chip that also has the classic Kettle brand "crunch" that potato chip fans have come to know and love over the years. 
Potato Chips Are A Long Time Favorite Snack Food
If you study micro–market and vending consumer trends, you'll know that potato chips remain a favorite snack food that people are known to grab daily when they want to eat something quick, especially for lunch, during the middle of the day or at the end of the day.  
Although potato chips are a favorite snack food, the reality is that not every potato chip brand on the market today can be considered to be "healthy". 
Most potato chips available today are made with hydrogenated oils and other chemicals that have been found to be bad for the human body. This is why most consumers are more selective about the potato chips that they consume and it's also what gives Kettle Brand the advantage.  
Kettle Brand – A Healthy Brand That People Know and Love 
Thankfully, Kettle Brand has worked hard to build a reputation for having created healthy potato chips made from real ingredients. When you buy any Kettle Brand bag of chips, you can have confidence that you know what you're eating because they use ingredients that you can read, and will have confidence in knowing what you're putting into your body. 
Their Farmstand Ranch and Parmesan chips are a fantastic treat. Anyone can enjoy them with confidence knowing that these chips come with no trans-fat, chemicals, preservatives, or GMO ingredients, and most important of all they are 100% gluten–free.
In today's world, it's rare to find a brand that makes truly organic and healthy snack foods like Kettle Brand. 
Since more consumers want to eat healthy in today's world, it makes sense that micro–market end vending owners make the effort to offer healthier snack foods to their consumers by including products like Kettle Brands Parmesan Garlic and Farmstand Ranch chips in the products that they are selling. 
Besides their latest brand of chips, Kettle Brand also offers a wide variety of other chips including Barbecue, Salt & Fresh Ground Pepper, Pepperoncini, and more! 
These delicious potato chips come in 8.5 Oz bags and often retail for $3.79 per bag. Learn more about cattle brands and their healthy potato chips, visit their website at www.kettlebrand.com.  
---

Home | NEW PRODUCTS | Vending Newsletter sign up | Contact us | email press release
Also see: Beverages, Coffee, Cold Brew, Snacks, Foods, Brokers, Chips, Nuts, Energy Drinks, Energy bars, Fruit Snacks, Meat Snacks, Salty Snacks, Candy, Trail Mix, Gluten Free, Healthy Snacks, Pastries, Cookies, Crackers, Foods, Hispanic Snacks,
Also see: Product Brokers, Product Distributors, Micro Markets | Vending Companies USA
VENDING YELLOW PAGES DIRECTORIES:
Call us at 1-800-956-8363 or POST YOUR COMPANY, GET NEW BUSINESS!