i.jooz Makes Fresh Orange Juice Available Worldwide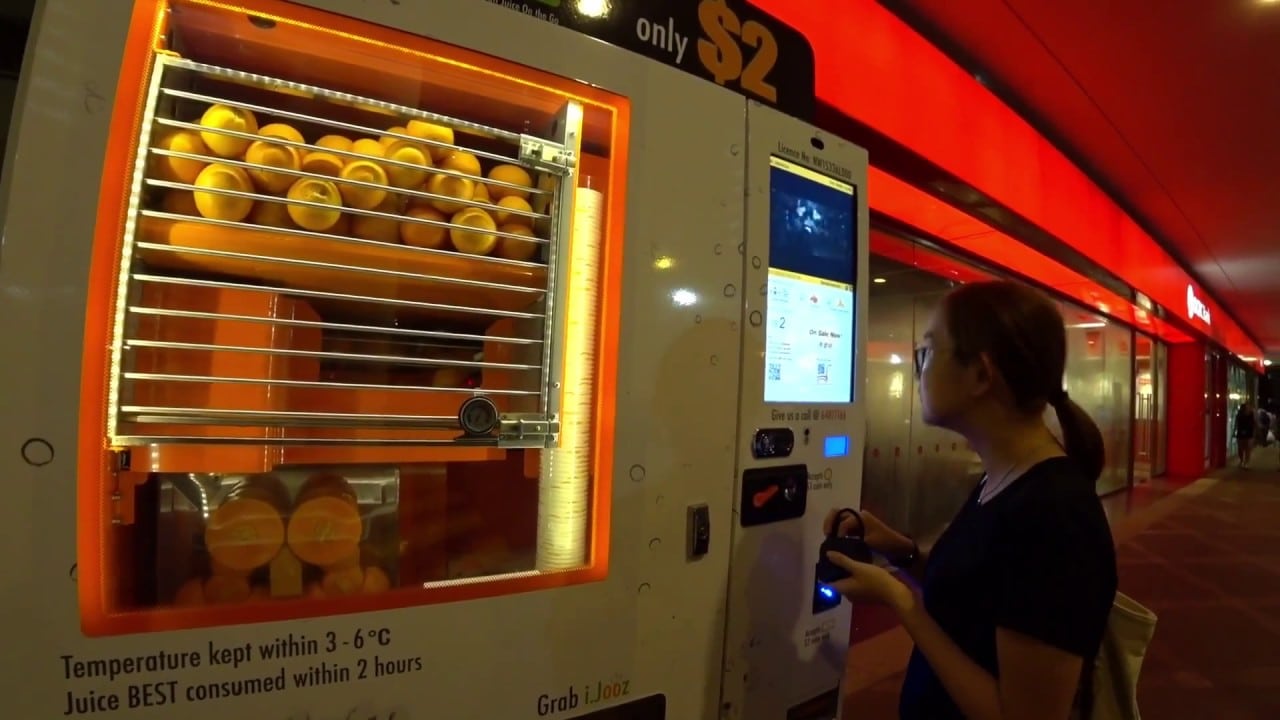 In 2020, as the health benefits of Vitamin C become more important than ever before due to the effects of the coronavirus, i.jooz is making it possible for micro markets, vending operators, and business owners around the world to offer fresh orange juice to their customers. 
Founded in Singapore in 2016 by Fruits Vending PTE, LTD, i.jooz orange juice vending machines quickly gained popularity in Singapore as 400 machines were placed island-wide. Fast forward to 2020 and more i.jooz smart vending machines have been placed in 20 countries around the world as more consumers prefer to drink juice during the day instead of just drinking soda. 
About The i.jooz Orange Juice Smart Vending Machine 
Fresh orange juice from a vending machine? Yes, it's now possible thanks to the i.jooz smart vending machine. This vending machine makes it possible for business owners to offer fresh orange juice to their customers 24-7. 
What's great about the i.jooz smart vending machine is that it has a dispensing capacity of 9.637 fluid ounces, or 125 sealed cups, with sizes ranging from 10-12 ounces. Consumers also have a variety of payment options with the i.jooz smart vending machine. 
Like other 21st century vending machines, once the i.jooz vending machine is connected to wi-fi, business owners can track the performance of their vending machines. Each machine is also connected to i.jooz HQ, this gives the company (via cloud monitoring), the ability to track the status of the machine, inventory (cups quantity/oranges), accounting, sales transaction and more. 
The machine has a sleek design with a large window so that consumers can see the juicing process in action before they receive a cold glass of delicious freshly squeezed (chilled) orange juice that doesn't contain ice or any artificial ingredients.  
i.jooz has also made growing a sustainable business model easy because this machine has a low operating cost and offers business owners the potential to enjoy a profit margin of between 30% to 60% plus ROI within 8-10 months. 
The Right Time For More Orange Juice 
It's one of the oldest drinks on the market today and something that everyone is familiar with but few people know the health benefits of orange juice. 
Thanks to statistics from healthline.com, we know that orange juice offers a full suite of health benefits in an eight–ounce glass including having many nutrients like vitamin C, potassium, and folate. A glass of OJ also has two grams of protein and a daily dose of magnesium as well. 
With more people becoming "health–conscious", it makes sense for any micro–market or vending operator to offer fresh orange juice to their customers because it gives consumers the option of ordering a healthy beverage in addition to the food that they are already buying from their vending machines or micro–market anyway. 
Learn More About i.jooz 
Now is the right time for more business owners, especially micro markets and vending routes, to offer freshly squeezed orange juice to their customers. Learn more about the i.jooz vending smart vending machine by visiting their website at http://www.fruitsvending.com/. 
---

Home | NEW PRODUCTS | Vending Newsletter sign up | Contact us | email press release
Also see: Beverages, Coffee, Cold Brew, Snacks, Foods, Brokers, Chips, Nuts, Energy Drinks, Energy bars, Fruit Snacks, Meat Snacks, Salty Snacks, Candy, Trail Mix, Gluten Free, Healthy Snacks, Pastries, Cookies, Crackers, Foods, Hispanic Snacks,
Also see: Product Brokers, Product Distributors, Micro Markets | Vending Companies USA
VENDING YELLOW PAGES DIRECTORIES:
Call us at 1-800-956-8363 or POST YOUR COMPANY, GET NEW BUSINESS!