Hormel Foods Debuts Skippy P.B. Bites Minis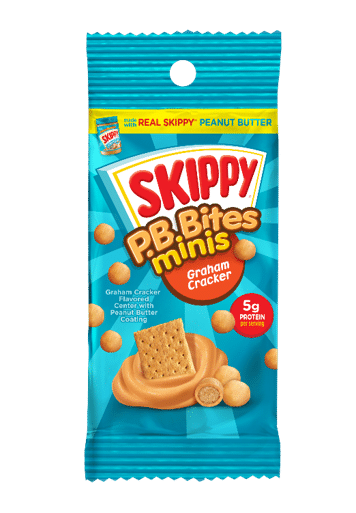 Hormel Foods, the makers of Skippy Peanut Butter, recently introduced Skippy P.B. Bites Minis, made with real Skippy peanut butter, in two varieties: double peanut butter and graham crackers.
The products come in 1.5-ounce pouches and are shelf stable. The products contain the following allergens: peanuts, soy, wheat, gluten and milk.
The Skippy P.B. Bites Minis single serving contains 1 gram total fat, 10 grams saturated fat, 10 milligrams cholesterol, 150 grams sodium, 90 grams potassium, 18 grams carbohydrate, 1 gram daily fiber, 12 grams sugar and 6 grams protein.
Skippy Peanut Butter, established in 1933, was recently cited on the Today Show as one of the 10 best peanut butters, which noted that the brand embodies the traditional flavor and reminds  of people childhood.
For more information visit https://www.hormelfoods.com/
---

Home | NEW PRODUCTS | Vending Newsletter sign up | Contact us | email press release
Also see: Beverages | Snacks | Foods | Brokers | Chips, Nuts, Energy bars, Fruit Snacks, Meat Snacks, Salty Snacks, Candy, Trail Mix, Gluten Free, Healthy Snacks, Pastries, Cookies, Crackers, Foods, Hispanic Snacks,
Also see: Product Brokers, Product Distributors, Micro Markets | Vending Companies USA
VENDING YELLOW PAGES DIRECTORIES:
Call us at 1-800-956-8363 or POST YOUR COMPANY