Honest Tea Debuts Organic Cold Brew Coffees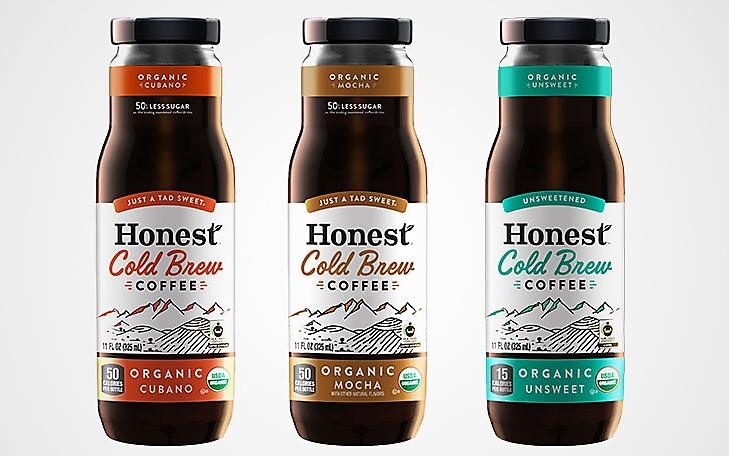 Honest – the makers of the nation's top-selling organic bottled tea is entering the red-hot cold brew coffee market.
Honest Cold Brew Coffee will be available in three flavors – Unsweet Black, Just a Tad Sweet Cubano and Just a Tad Sweet Mocha – all in recyclable 11-ounce glass bottles. The offerings debuted recently on the West Coast and will roll out nationwide in early 2020.
The cold brews feature USDA Organic and Fair Trade Certified ingredients. The Just a Tad Sweet Cold Brew Coffee varieties contain half the sugar than the leading sweetened ready-to-drink (RTD) coffee.
The launch gives Honest a differentiated entrée into the U.S. cold brew coffee segment, which is up 600 percent since 2015. Honest General Manager Clare Verdery said RTD coffee is a natural extension for the brand, given its adjacency to bottled organic teas. Honest currently sells RTD coffee in the U.K., Spain and Norway.
"Because we chose to develop a lower-sugar, black cold brew variety without dairy, our proposition helps to deliver a smooth taste, which is important to our target millennial consumer," Verdery said. "Our vision for Honest is to 'own the fridge' by introducing organic, lower-sugar beverage solutions for adult, youth and all-family drinking moments throughout the day."
Honest Cold Brew supports co-founder Seth Goldman's mission to democratize organics and make a positive impact on communities with every Honest beverage sold.
"More and more people are voting with their dollars, so it has become increasingly important to weave our mission into our innovation pipeline," Verdery added. "As we expand into new categories, it's even more important that we abide by our brand guardrails of being organic, lower calorie than the competition, and Fair Trade certified wherever possible."
Honest's partnership with Coca-Cola has expanded distribution of its organic products to more than 150,000 retail and foodservice locations across the U.S., and more than 40 European countries.
For more information visit https://www.honesttea.com/
---

Home | NEW PRODUCTS | Vending Newsletter sign up | Contact us | email press release
Also see: Beverages, Coffee, Cold Brew, Snacks, Foods, Brokers, Chips, Nuts, Energy Drinks, Energy bars, Fruit Snacks, Meat Snacks, Salty Snacks, Candy, Trail Mix, Gluten Free, Healthy Snacks, Pastries, Cookies, Crackers, Foods, Hispanic Snacks,
Also see: Product Brokers, Product Distributors, Micro Markets | Vending Companies USA
VENDING YELLOW PAGES DIRECTORIES:
Call us at 1-800-956-8363 or POST YOUR COMPANY, GET NEW BUSINESS!