HEALTHY SNACK ALERT! Grain-Free Snack Clusters From Bakery On Main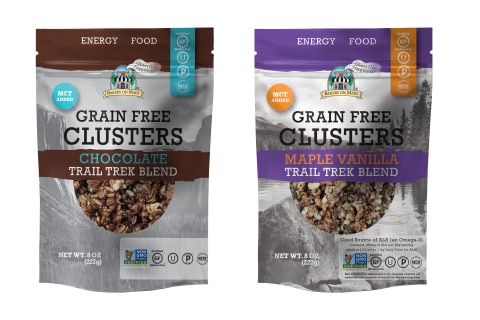 Want to offer your customers healthy snacks that are also grain–free? Thanks to Bakery on Main, now you can, with their Grain Free Snack Clusters Trail Trek Blend.
Bakery on Main has been a leader at offering keto, grain–free, and certified paleo foods for decades, their cluster trail trek blend snack line has become a "go-to" snack food for many consumers.
About Bakery on Main's Grain Free Snack Clusters
Bakery on Main is offering a healthy snack option with their new Grain Free Snack Clusters, with just 6 grams of sugar and less than 7 grams of net carbs in each serving.
This energy snack food also offers medium-chain triglycerides that are extracted only from coconut oil, which offers consumers an instant energy source as well.
A Grain-Free, Non-GMO Snack Food
Available in 8–ounce resealable bags, Bakery on Main's new Grain Free Snack Clusters are sure to be a hit with today's health–conscious consumers. This product comes come in maple vanilla and chocolate, and are typically priced at $6.99.   
Consumers can enjoy these grain-free snack clusters with confidence, a product that's gluten-free, paleo, keto, dairy-free, casein-free and non-GMO. 
More People Are Snacking on The Go 
In the 2020s, more people than ever before are snacking "on the go". Thanks to recent statistics from foodinsight.org, we know that snacking is actually on the rise and 57% percent of respondents said that they snack at least once a day while 31% snack a few times each week. 
These statistics make sense considering that our world is only getting busier and more people to prefer to eat smaller meals during the day instead of three large meals per day like they may have in the past. 
Snack foods like Bakery on Main's Grain–Free Snack Clusters are ideal for snacking because they give the consumers a quick and easy snack that also offers a ton of health benefits.  
Creating Healthy Foods Since 2003 
Since 2003, Bakery on Main has been a leader in creating healthy foods that "fuel" the body while providing consumers with foods that are convenient and can be enjoyed anywhere especially at home or in the office. 
Bakery on Main's Grain–Free Nut clusters is also important because it can also be enjoyed by people who need to eat a Celiac Safe diet. 
Recent statistics from https://www.cureceliacdisease.org/ shows that about 1% of American's are living with Celiac disease, an auto-immune disorder that produces adverse-affects when someone who has it eats foods with gluten, wheat or barley. 
Thankfully, in 2020 it's easier than ever before for people to eat healthy thanks to Bakery on Main and their Grain–Free Nut Clusters. To learn more about this product, or the other health food products that they offer consumers, visit their website today at https://bakeryonmain.com/. 
---

Home | NEW PRODUCTS | Vending Newsletter sign up | Contact us | email press release
Also see: Beverages, Coffee, Cold Brew, Snacks, Foods, Brokers, Chips, Nuts, Energy Drinks, Energy bars, Fruit Snacks, Meat Snacks, Salty Snacks, Candy, Trail Mix, Gluten Free, Healthy Snacks, Pastries, Cookies, Crackers, Foods, Hispanic Snacks,
Also see: Product Brokers, Product Distributors, Micro Markets | Vending Companies USA
VENDING YELLOW PAGES DIRECTORIES:
Call us at 1-800-956-8363 or POST YOUR COMPANY, GET NEW BUSINESS!