Ethnic Influences On The Move In U.S. Foodservice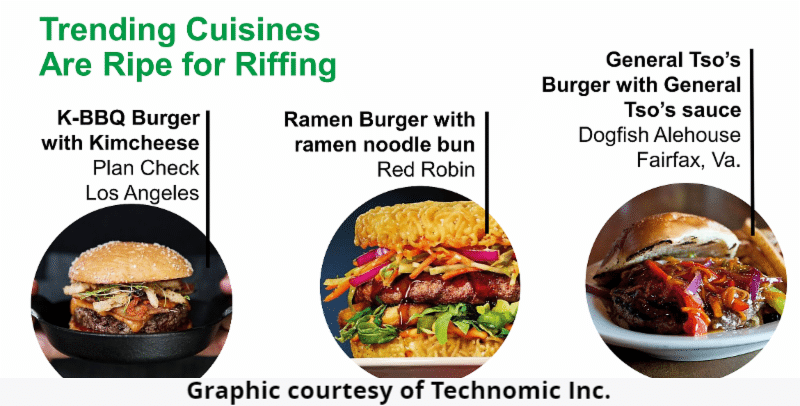 U.S. foodservice operators have adapted their menus to reflect a more diverse population in recent years. Research on menu trends presented during the National Restaurant Show at McCormick Place indicated Asian and Middle Eastern cuisine are making significant inroads. As restaurants change their menus to reflect more diverse consumer tastes, convenience service operators have to recognize a wider range of customer preferences to win their fair share of consumer food spending.
Researchers Lizzy Freier, managing editor of menu analysis for Technomic, a foodservice researcher, and Nancy Kruse, the president of The Kruse Company, a foodservice consultancy, presented highlights from a 2018 Technomic survey and offered an analysis of ethnic trends in U.S. foodservice.
The menu samples demonstrated that Asian and Middle Eastern cuisine are on the rise in all U.S. geographic regions, not just those with large Asian and Middle Eastern populations.
Chinese cuisine continues to be the dominant Asian cuisine, Freier said. The Technomic survey found that 66 percent of U.S. consumers consider Chinese food exciting. And while Chinese cuisine maintains its dominance, other Asian countries are gaining popularity. Japanese food was cited as a favorite by 50 percent of the survey respondents, followed by Thai cuisine, cited by 43 percent; Korean food, 36 percent; Indian fare, 34 percent; and Vietnamese cuisine, 28 percent.
The research also found that add-ons are one of the fastest growing meal segments on U.S. menus. Freier noted that Korean kimchee, a side dish of salted and fermented vegetables, has gained favor as an add-on.
U.S. establishments that have recently offered Korean fare on their menus include the Veggie Grill chain which offers Koreatown Tacos with gochujang sauce; Levi's Stadium in Santa Clara, California features Korean Bibima bap bowl with gochujang aioli; Steingold's of Chicago offers a Sister-in-Law sandwich with dill kimchee; and Ba Bellies in Peachtree Corners, Georgia offers BB Street Corn with kimchee remoulade.
Japanese spice has also sustained its influence on U.S. menus, the researchers noted. The Just Salad chain offers Tokyo Supergreens Salad with Furikake – consisting of dried fish, sesame seeds and seaweed – while the Lazy Dog Restaurant & Bar chain offers Togarashi Edamame Beans, which consists of red chile, orange peel, sesame and ginger.
Another meal segment that has shown growth in the U.S. is limited time offers, known as LTOs. In this menu category, Middle Eastern fare has played a growing role, Freier said.
The San Francisco based Sajj Mediterranean chain offers chocolate hummus, which includes hummus, tahini, chickpeas, chocolate hazelnut spread, cocoa powder, vanilla, cinnamon and maple syrup. Little Bean in Portland, Oregon offers chickpea ice cream that is gluten-free, nut-free and dairy-free.
Starbucks offers za'atar chicken salad with green herbs sesame and olive oil; Zoe's Kitchen in Charlotte, N.C. offers baked falafel pita with a hot sauce known as schug, which consists of cilantro, garlic and hot pepper; Empellon AI Pastor in New York, N.Y. offers a fried chicken sandwich with garlic, cucumber, labneh and dill; Zov's in Irvine, California offers kebab with marinated chicken breast or beef tenderloin, along with tomato cucumber salad, jasmine rice pilaf and yogurt mint sauce.
Balkan flavors are also gaining favor, Freier said. Oran Mor in Nantucket, Massachusetts offers roasted oysters bourguignon, while Balkan Treat Box in Webster Groves, Missouri, features Pide, a pizza like dish.
By Roger Stewart, Editor
---

Home | NEW PRODUCTS | Vending Newsletter sign up | Contact us | email press release
Also see: Beverages, Snacks, Foods, Brokers, Chips, Nuts, Energy bars, Fruit Snacks, Meat Snacks, Salty Snacks, Candy, Trail Mix, Gluten Free, Healthy Snacks, Pastries, Cookies, Crackers, Foods, Hispanic Snacks,
Also see: Product Brokers, Product Distributors, Micro Markets | Vending Companies USA
VENDING YELLOW PAGES DIRECTORIES:
Call us at 1-800-956-8363 or POST YOUR COMPANY, GET NEW BUSINESS!