Espresso Beans Plus Dark Chocolate, Java Bliss!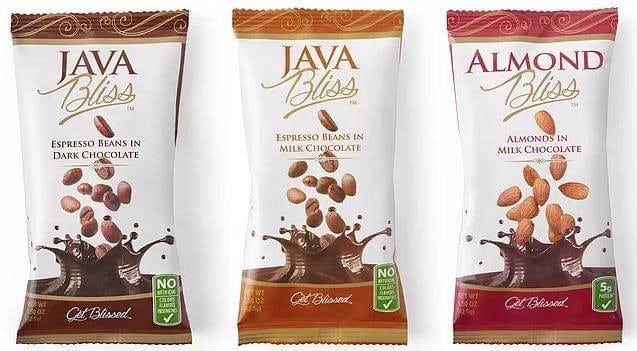 Espresso beans plus chocolate? It's a winning combination for Arkansas company Hurst Brands and their flagship product Java Bliss, delicious premium chocolate that incorporates the "robust" flavor of espresso beans and wonderful dark chocolate. 
Java Bliss is a product appeals to two different types consumers, since it's coffee flavor will appeal to both coffee drinkers and the rich dark chocolate will appeal to chocolate lovers.
About Java Bliss 
Hurst Brands takes pride in making Java Bliss. Their espresso beans are whole roasted and double–coated with delicious dark chocolate and they are not too sweet or bitter. Each bite offers a winning combination that both chocolate lovers and coffee fans will enjoy. 
Made from the best Arabica espresso beans that were grown in Costa Rica, Java bliss chocolates offer consumers the "one-two punch" of coffee and chocolate that they have been craving. 
Most coffee drinkers also drink different brands of coffee, including chocolate-flavored coffee, so it makes sense to offer those coffee drinkers a product that combines the flavors of espresso beans and chocolate in a convenient bite-size.  
One Bag of Java Bliss Has 160 Milligrams of Caffeine  
You may be wondering "what about the caffeine?" and that's a good question! One bag of Java Bliss Dark Chocolate Espresso beans offers about 160 milligrams of caffeine. This is comparable to drinking a 10-ounce cup of coffee.  
Thanks to the popularity of Java Bliss, Hurst Brands is expanding its product line and now offers Almond Bliss, a delicious combination of California roasted almonds and premium chocolate.  
Statistics Show the Growth of Coffee and Chocolate Markets  
Java Bliss is a product that offers "the best of both worlds" since the flavor of milk chocolate and roasted espresso beans both pair well together. 
Thanks to statistics from brandongaille.com, we know that 20% of chocolate consumption in the world occurs in the United States while 50% of the world's chocolate consumption occurs in Europe. 
When it comes to coffee, the statistics get even better. Thanks to the National Coffee Association, we know that more than 60% of Americans drink coffee and roughly 80% of people living in the United States were reported to have drunk coffee on the last day. 
Premium Chocolate Market Expected to Reach 33.14 Billion USD by 2024 
The demand for premium chocolate is also growing as well around the world. Recent statistics from globalnewswire.com shows that the Global Premium Chocolate Market is predicted to reach $33.14 billion (USD) by 2024. 
Even though the demand for premium chocolate is on the rise, most consumers also want healthy chocolates that are organic and made without using any products that could produce adverse effects on the environment. 
Micro Markets and vending operators should consider adding Java Bliss to the products that they are offering their customers because it's premium chocolate that will give consumers that special blend of coffee and chocolate that they want during their day. 
To learn more about Java Bliss, including espresso beans in dark chocolate, espresso beans in milk chocolate or their almonds in milk chocolate, visit their website today at https://www.java-bliss.com/. Call 616-430-2136, email john@hurstbrands.com.
We would like an opportunity to earn your business.
John and Brenda Hurst
Veteran Owned
616-430-2136

---

Home | NEW PRODUCTS | Vending Newsletter sign up | Contact us | email press release
Also see: Beverages, Coffee, Cold Brew, Snacks, Foods, Brokers, Chips, Nuts, Energy Drinks, Energy bars, Fruit Snacks, Meat Snacks, Salty Snacks, Candy, Trail Mix, Gluten Free, Healthy Snacks, Pastries, Cookies, Crackers, Foods, Hispanic Snacks,
Also see: Product Brokers, Product Distributors, Micro Markets | Vending Companies USA
VENDING YELLOW PAGES DIRECTORIES:
Call us at 1-800-956-8363 or POST YOUR COMPANY, GET NEW BUSINESS!