DRINK HINT: Fruit Infused Water, Your Customers Will Love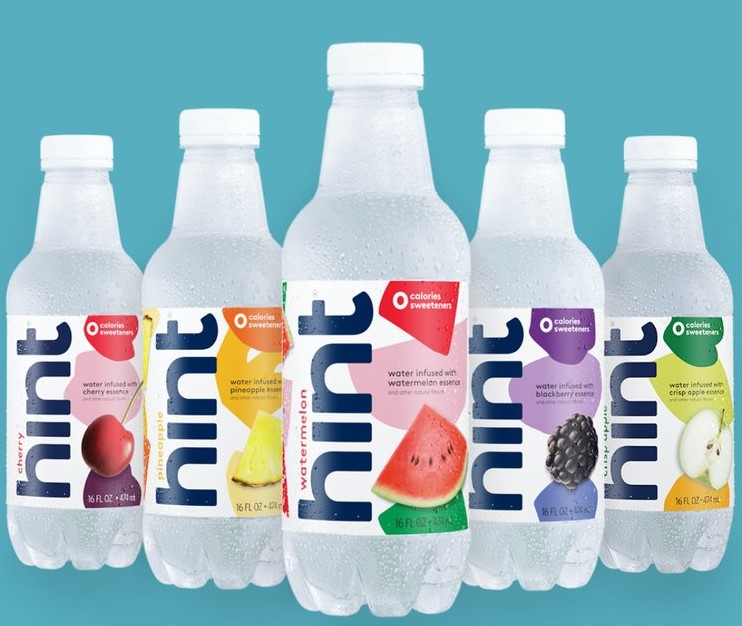 DRINK HINT: Even though everyone knows that they need to drink more water, the reality is that very few people consume water that they need daily. Most people are lacking in the water that they need and are even on the verge of being dehydrated without even knowing it.  
Hint's Fruit Infused Water Is the Solution to People Needing More Water 
Hint has the solution for the problem with water thanks to its delicious fruit infused water. Each bottle is not going to add any extra calories, sugar, preservatives, or sweeteners to the average person's diet, because it's water, with a little bit of fruit flavor. 
Anyone can enjoy a delicious bottle of Hint water while still consuming something that they enjoy. 
Most people who consume soda, coffee, tea, and other beverages regularly know that they need to drink more water but the reality is that it's not uncommon for somebody to not have the ability to consume water like they did when they were younger. 
Depending upon where it's bottled, or the tap that the water is coming from, water in today's world comes with a wide variety of problems for the individual who consumes it.
It's also not uncommon for most people to want to have the ability to drink water but, they can't stomach it due to the minerals in the water, or they don't want to drink water because any time that they've tried to consume it, the bleach or other chemicals that the water is processed with formed a negative opinion of water when they tried to consume it.
Another great thing about Hint water is that each bottle contains 100% pure water without any harmful additives or chemicals.
What's even better about Hint water is that the company just doesn't produce water alone, they also produce a wide variety of different versions of water for people who have tried drinking water in the past but may have been turned off because it tasted bland to them. 
Hint offers a flavor for everyone, with 20 flavors to choose from including watermelon, pineapple, black cherry, lime, and also Clementine. There's also a caffeinated option called KICK, and the company makes kids pack as well. 
Most People Want to Drink Water but Don't  
If you've been thinking about offering water to your micro–market, or vending customers, now is the right time to get started, and Hint water is one of the best products for you to choose from. 
---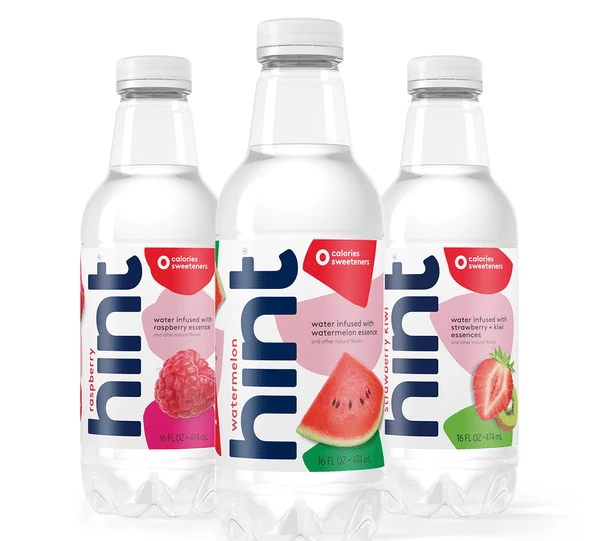 Hint® is water with a touch of fruit flavor. Hint is water—just more delicious.  Hint water has 0 sugar, 0 diet sweeteners, 0 preservatives, 0 calories, and 0 GMOs. 
Who is Hint perfect for? 
Anyone really, but we've been told by our customers that it's really great for people who: 
don't like the taste of plain water.

are trying to give up soda or diet soda.

don't drink 

soda or 

diet soda but want a "treat".

have diabetes or pre-diabetes or gastrointestinal issues.
About Hint 
San Francisco-based Hint, Inc., founded by entrepreneur Kara Goldin, is most known for its delicious unsweetened flavored water, which helps people fall in love with water. Since its launch, Hint water has helped consumers live healthier lifestyles by making water taste great without sugar or diet sweeteners. Hint is pure filtered water infused with fruit essences. Our 16-ounce bottles are BPA free, contain 40% less plastic, and are 100% recyclable, including the caps. 
We offer Hint for every age and taste in over 20 flavors including blackberry, watermelon, pineapple, cherry, lemon & clementine in STILL, SPARKLING, CAFFEINATED (KICK), and KIDS Tetra pack. 
To learn more about Hint visit https://www.drinkhint.com/
Contact Christie Welborn – Sr. Director National Accounts,
(843) 455-6099, christie@drinkhint.com 
---

Home | NEW PRODUCTS | Vending Newsletter sign up | Contact us | email press release
Also see: Beverages, Coffee, Cold Brew, Snacks, Foods, Brokers, Chips, Nuts, Energy Drinks, Energy bars, Fruit Snacks, Meat Snacks, Salty Snacks, Candy, Trail Mix, Gluten Free, Healthy Snacks, Pastries, Cookies, Crackers, Foods, Hispanic Snacks,
Also see: Product Brokers, Product Distributors, Micro Markets | Vending Companies USA
VENDING YELLOW PAGES DIRECTORIES:
Call us at 1-800-956-8363 or POST YOUR COMPANY, GET NEW BUSINESS!