Doritos Twisted Lime Tortilla Chips, The Next Big Yum?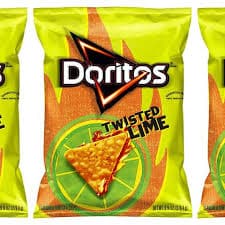 Consider offering a new brand of chips to your customers Doritos Twisted Lime Tortilla Chips. Doritos has a long history of creating new and exciting versions of their now–iconic tortilla chip, and their Twisted Lime Tortilla Chips certainly do not disappoint! 
This version of Doritos offers a little bit of everything including lime, and a little bit of heat. These two ingredients create a delicious chip that's very enjoyable and will pair well with any meal, or as a grab and go snack. 
What's The Inspiration Behind Twisted Lime Tortilla Chips? 
Since launching in the early 1960s, Doritos has never let their fans down, especially when it comes to creating a new version of their chips, that are also enjoyed around the world.  
After launching their Flamin' Hot Limón tortilla chips recently, the company wanted to create a similar type of chip that didn't have as much heat as their Flamin Hot tortilla chips does. 
Thankfully, they found a winner with their Twisted Lime Tortilla Chips because these chips offer a bold and delicious flavor that even the most casual tortilla chip fan will enjoy, without having overpowering heat, or an uncomfortable aftertaste in your mouth. 
The Next Big Yum? 
With snacking on the rise in 2020, due to Covid-19, Doritos Twisted Lime Tortilla Chips will likely be the 'next big yum' with consumers who enjoy having some tortilla chips as a snack, or with their lunches. 
At 400 calories per bag, 3 grams of saturated fat, 0 milligrams of cholesterol, and 4 grams of dietary fiber, these chips are a delicious addition to the Doritos product line. 
Doritos Twisted Lime tortilla chips have a suggested retail price of $1.69 per 2.75 ounces bag.
For more information visit https://www.doritos.com/products
By Jeremy Raglin, Editor & National Sales Director
---

Home | NEW PRODUCTS | Vending Newsletter sign up | Contact us | SUBMIT PRESS RELEASE
Also see: Beverages, Coffee, Cold Brew, Snacks, Foods, Brokers, Chips, Nuts, Energy Drinks, Energy bars, Fruit Snacks, Meat Snacks, Salty Snacks, Candy, Trail Mix, Gluten Free, Healthy Snacks, Pastries, Cookies, Crackers, Foods, Hispanic Snacks,
Also see: Product Brokers, Product Distributors, Micro Markets | Vending Companies USA
VENDING YELLOW PAGES DIRECTORIES:
Call us at 1-800-956-8363 or POST YOUR COMPANY, GET NEW BUSINESS!