Coca-Cola Now Selling Cherry Vanilla Coke in Both Bottles and Cans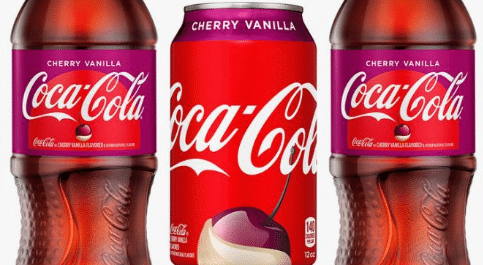 Coca-Cola announced recently that they are now producing Cherry-Vanilla Coke in both bottles and cans.  
The beverage company made the decision to release this version of Coke to the public because they realized that it's the combination that most consumers mix when they visit a soda fountain, so it made sense to give consumers what they really wanted. 
Coca-Cola Continues Innovating In 2020 
2020 is shaping up to be a big year for Coca-Cola as they recently released Coke Energy, their latest foray into the energy drink market in the United States. 
Coke Energy has been a major hit since it's release because it also satisfies a consumer need for an energy drink that doesn't have the "cough syrup" taste that most energy drink brands on the market today seem to have. 
Besides offering Cherry Vanilla, Coke Energy, and Coke plus coffee; Coca-Cola also released an orange-vanilla version of Coke to the market that's been a big hit in the United States. 
Keeping Up with The Times 
As any beverage company knows, innovation is the key to success in the beverage market and even though their brand may be one of the oldest and most respected today, it could be gone by tomorrow. This is why Coca-Cola has been branching out its brand by creating more drinks that also serve a purpose or provide the consumer with energy or a specific flavor rather than just the "old school" coke flavor like they may have tried in the past. 
The average consumer wants to have their same favorite brand soft drinks in a variety of different flavors and Coca-Cola has met that demand. 
What's Next for Coca-Cola? 
Along with offering its consumers more Coke varieties, the company is also moving to make less sugary drinks to meet the dietary requirements of the average consumer by creating a zero sugar version of Cherry Vanilla Coke and the company has a goal to lower the sugar content of all of their beverages overall within 3-5 years. 
This is good news for the longevity of the Coca-Cola brand because even though most people want to continue enjoying Coke products, they also want to follow their doctor's dietary and sugar guidelines.  
With the wide variety of sweetener substitutes on the market today, it's likely that Coca-Cola will be able to continue meeting the demands of its customers. The company has also been investing heavily in other countries like India, for the purpose of infusing the agriculture grown in those countries into their beverages.  
Consumers are wanting a variety of Coca-Cola flavors, so it makes sense for vending and micro-market business owners to offer their customers the same. A variety of Coke options including Cherry-Vanilla Coke so they can give their customers what they want. 
For more information visit https://us.coca-cola.com/products/coca-cola-cherry-vanilla
---

Home | NEW PRODUCTS | Vending Newsletter sign up | Contact us | email press release
Also see: Beverages, Coffee, Cold Brew, Snacks, Foods, Brokers, Chips, Nuts, Energy Drinks, Energy bars, Fruit Snacks, Meat Snacks, Salty Snacks, Candy, Trail Mix, Gluten Free, Healthy Snacks, Pastries, Cookies, Crackers, Foods, Hispanic Snacks,
Also see: Product Brokers, Product Distributors, Micro Markets | Vending Companies USA
VENDING YELLOW PAGES DIRECTORIES:
Call us at 1-800-956-8363 or POST YOUR COMPANY, GET NEW BUSINESS!