Celsius Shakes Up The Expanding RTD Energy Drink Market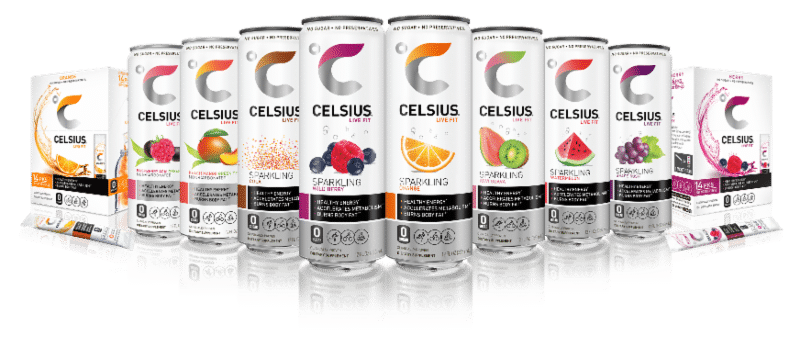 RTD energy drinks are still on a roll, and every vending machine and micro market is missing out on big sales if they aren't giving proper placement to this category that is popular with consumers of all ages.
Energy drink sales hit $14.7 billion in 2017 on a volume of 683.9 million gallons, according to the Beverage Marketing Corp., making a 2.8 percent increase over the previous year, a hefty sales gain for an established category.
Celsius, one of the fastest growing players in this expanding category, recently became available to vending and micro markets and has already made significant strides in refreshment services. Available through Vistar, Celsius Originals have been added to vending machines and micro-markets of refreshment solution providers, including Accent Foods, Canteen, First Class Vending, Five Star Food Service and Southern Refreshment Services.
"Adding Celsius to our vending machines makes sense for Accent Foods because the demand for healthier energy drinks that offer vitamins and carbonation without all the sugar and calories found in traditional energy drinks is of mass appeal to our patrons, and we need  to deliver on these asked for and looked-for wantables," said Josh Rosenberg, CEO of Accent Foods.
"It's blowing out," said Dave Gellman, one of four brokers carrying the Celsius line for the vending and micro market channels. "It looks like it's going to be a home run. I'm expecting big things from this." Celsius is the first RTD energy product Gellman has carried in five years, and he's glad to be back in this continuously growing market.
In addition to Gellman Associates, based in Egg Harbor Township, N.J., Celsius brokers include Saverino & Associates, Carol Stream, Ill; CMG and West Coast Concepts. In addition to its broker partners, Celsius division managers are Dan Wilder in the West and Erin Dasconio in the east.
"The shifting focus on health and wellness has affected all categories in vending, but especially beverages in particular where Celsius is uniquely positioned, as it provides a healthier, proven-to-function alternative in the energy drink category. It's perfect for vending customers who need a vitamin-infused, caffeinated energy option at work, on the go or on campuses," said David Smaltz, Sr., director of vending sales for Celsius Holdings.
Celsius 12-ounce fitness drinks include Raspberry Acai, Peach Mango, Sparking Cola, Sparkling Wild Berry, Sparking Orange, Sparkling Kiwi Guava, Sparkling Watermelon and Sparkling Grape Rush.
While all flavors are available for vending integration, the Celsius flavors currently being offered in vending and micro markets to date include Sparkling Watermelon, Non-Carbonated Peach Mango Green Tea, Raspberry Acai Green Tea and Sparkling Wildberry.
Because Celsius is naturally sweetened and carbonated, it contains no sugar, preservatives, artificial colors or flavors or aspartame. The product is favored by consumers who are looking for healthier alternatives. The beverages accelerate metabolism and burn body fat.
Micro market merchandising tools include cooler clings, shelf talkers, channel strips, danglers, corrugated displays and demos. Celsius can also provide custom merchandising materials for operators.
According to SPINS Scan Conventional Markets report, Celsius was the number four energy and functional beverages brand in the convenience channel for the 2-week period ending March 25, 2018, and is the fastest growing brand with the highest contribution to growth of any brand in its competitive set in the natural channel.
Celsius participates in consumer events such as races, fitness events and lifestyle events, including Tough MUDder Events, Fit Expo in Los Angeles and Chicago, Model Volleyball Miami, Arnold Fitness Expo, Europa Games Expos, Mr. Olympia, The Yoga Expo, Elvis Duran Dysfunctional, Family Vacation and Seed Festival.
Celebrity partnerships include Fio Rida Mario Lopez, Howie Mandel, Kimora Lee Simons and more.
For more information visit https://www.celsius.com/, 866-423-5748.
Distribution through Vistar: https://www.vistar.com/
By Jeff Adair, Editor
---

| Home | NEW PRODUCTS | Vending Newsletter sign up | Questions? Contact us | email press release

Also see: Beverages | Snacks | Foods | Brokers | Chips, Nuts, Energy bars, Fruit Snacks, Meat Snacks, Salty Snacks, Candy, Trail Mix, Gluten Free, Healthy Snacks, Pastries, Cookies, Crackers, Foods, Hispanic Snacks,
Also see: Product Brokers, Product Distributors, Micro Markets | Vending Companies USA
VENDING YELLOW PAGES DIRECTORIES:
Call us at 1-800-956-8363 or POST YOUR COMPANY