Calypso Launches New Light Lemonade Flavors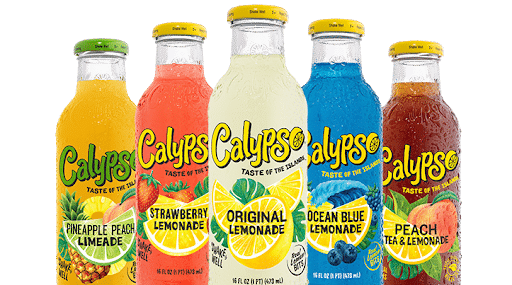 Summer is almost here, and Calypso has just announced that they are releasing a new line of lemonade flavors, including Ocean Blue Lemonade, Strawberry Lemonade, Original Lemonade, and Southern Peach Lemonade. 
Each of these new lemonades has its trademark "island–inspired lemonade taste" that people have come to know and love from Calypso beverages for the last 20 years. 
What's excellent about Calypso lemonades is that besides tasting great, these beverages only have five calories per 16-ounce, $1.79 bottle, and they contain ZERO grams of sugar. Contrast this to the 27 grams of sugar that can be found in a can of Pepsi, and it's easy to see that Calypso lemonades are a smart choice for any health-conscious consumer who wants to limit their sugar intake. 
A Taste Of The Islands 
With a wide variety of lemonade flavors on the market today, what makes Calypso's light lemonade so unique is that they genuinely have a delicious taste that lemonade fans enjoy. The company continues to live up to their reputation of producing lemonades that offer "a taste of the islands." 
Lemonade is a light, delicious drink that can be paired with almost any food, or it can be enjoyed as a tasty drink at any time of the day. 
As with grabbing a bottle of water, consumers who drink lemonade have high expectations and know what each bottle of this traditional beverage is going to offer them. 
Lemonade Drink Market Is Expected To Continue Growing By 2026 
It makes sense for micro–market and vending route owners to offer Calypso lemonade to their customers because lemonade is a sweet beverage that many people want without having to deal with the calories or sugar that can come from drinking a bottle of soda. 
Thanks to recent data from Credence Research, Inc, we know that the lemonade drinks market is projected to grow at a CAGR of 6.3% by 2026 and all of the major bottling companies in the world, including Coca Cola, are eager to get a piece of that market share. 
Global Demand for carbonated beverages has been on the decline since 2017 as more consumers are demanding drinks that offer lower calories and functional properties that are good for them instead of corn syrup and carbonated water, which can be found in soda. 
Made With Real Lemons And Real Sugar 
The great thing about Calypso lemonade is that their commitment to excellence hasn't changed since they created their first batch of lemonade in 1985. Their goal of making lemonade with an authentic flavor has paid off, and what's even better is that the company still uses real sugar, lime bits, and hasn't moved to use artificial sweeteners or preservatives. 
Calypso Lemonade is always innovating; besides its light lemonade flavors, the company also offers a wide variety of other characters, including Ocean Blue Lemonade and Jamaica Limeade. 
For more information about Calypso Lemonade, visit their website at www.drinkcalypso.com. 
---

Home | NEW PRODUCTS | Vending Newsletter sign up | Contact us | email press release
Also see: Beverages, Coffee, Cold Brew, Snacks, Foods, Brokers, Chips, Nuts, Energy Drinks, Energy bars, Fruit Snacks, Meat Snacks, Salty Snacks, Candy, Trail Mix, Gluten Free, Healthy Snacks, Pastries, Cookies, Crackers, Foods, Hispanic Snacks,
Also see: Product Brokers, Product Distributors, Micro Markets | Vending Companies USA
VENDING YELLOW PAGES DIRECTORIES:
Call us at 1-800-956-8363 or POST YOUR COMPANY, GET NEW BUSINESS!