Cadbury Twirl Orange – Limited Edition Candy Bar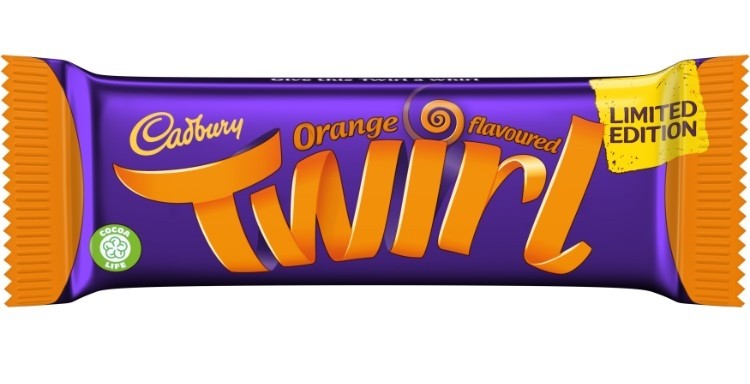 Cadbury has set the standard over the years for delicious chocolate treats thanks to their now–iconic process for making chocolate which includes milk and chocolate liquor; a process which has made their chocolates and Cadbury Eggs in-demand treats around the world. 
The company has once again proven that they know what chocolate fans want by releasing Cadbury Twirl Orange, a delicious orange chocolate treat. 
Cadbury Twirl Orange was originally released to high acclaim in 2019, Cadbury's Twirl Orange candy bar has been the talk of candy bar fans around the world.  Available in a blue and orange wrapper, the two small candy bars (fingers) in one package will a perfect treat that can be enjoyed anytime and it's sure to be remembered along with other iconic candy bars that have come and gone over the years.
Cadbury Orange Twirl ingredients: Milk, sugar, cocoa butter, cocoa mass, whey powder, vegetable fats (palm, shea), emulsifiers (E442, E476), flavourings. Cocoa solids: 25% minimum; Milk solids: 14% minimum.

In today's world as many consumers are for opting gluten–free, or dairy–free treats, candy bars still are enjoyed around the world, especially during Covid-19 when the average consumer will buy their favorite candy bars or sweet treats from a vending machine or a breakroom micro market. 
With Halloween fast approaching, it's expected that at least 95% of the population in the United States will be purchasing candy regardless if they celebrate Halloween or not so it makes sense for vending operators, and micro–market owners, to carry candy during this time of year to satisfy their customers chocolate cravings.  
Cadbury's Twirl Orange Candy bar won't be available for long. To learn more about these limited edition candy bars visit the Cadbury website at https://www.cadburygiftsdirect.co.uk/cadbury-orange-twirl-43g.html. 
---

Home | NEW PRODUCTS | Vending Newsletter sign up | Contact us | email press release
Also see: Beverages | Snacks | Foods | Brokers | Chips, Nuts, Energy bars, Fruit Snacks, Meat Snacks, Salty Snacks, Candy, Trail Mix, Gluten Free, Healthy Snacks, Pastries, Cookies, Crackers, Foods, Hispanic Snacks,
Also see: Product Brokers, Product Distributors, Micro Markets | Vending Companies USA
VENDING YELLOW PAGES DIRECTORIES:
Call us at 1-800-956-8363 or POST YOUR COMPANY