C20 Pure Coconut Water Made From Freshwater Coconuts For Improved Taste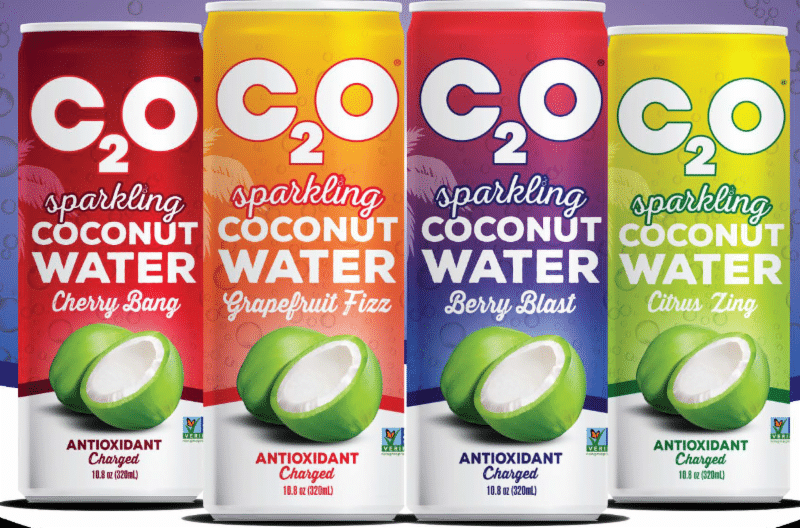 Pure Coconut Water from C20 offers 100 percent pure coconut water from Thai green freshwater coconuts. The beverage is available to vending and micro market operators in 10.5-, 16.9- and 17.5-ounce cans.
The products are gluten-free, non-GMO, USDA Organic certified, and never made form concentrate.
The products are plant-based, single sourced and offer electrolytes.
Thai coconuts are a freshwater type that yield a better taste than the salty flavor of the more common coastal coconut, according to the Long Beach, Calif.-based company.
Flavors include: coconut water; coconut water with pulp; pineapple coconut water; ginger, lime and turmeric; espresso coconut water; and mango coconut water.
Strategic Natural Sales represents the brand, which is available in some vending and micro market warehouse distributors or direct from the company. The 10.5-ounce cans come 24 bottles per case and have a 90-case minimum when buying direct, while the 16.9- and 17.5-ounce cans come 12 bottles per case and have a 132-case minimum buying direct.
For more information visit https://drinkc2o.com/
---

Home | NEW PRODUCTS | Vending Newsletter sign up | Contact us | email press release
Also see: Beverages, Snacks, Foods, Brokers, Chips, Nuts, Energy bars, Fruit Snacks, Meat Snacks, Salty Snacks, Candy, Trail Mix, Gluten Free, Healthy Snacks, Pastries, Cookies, Crackers, Foods, Hispanic Snacks,
Also see: Product Brokers, Product Distributors, Micro Markets | Vending Companies USA
VENDING YELLOW PAGES DIRECTORIES:
Call us at 1-800-956-8363 or POST YOUR COMPANY