Blue Monkey Sparkling Coconut Water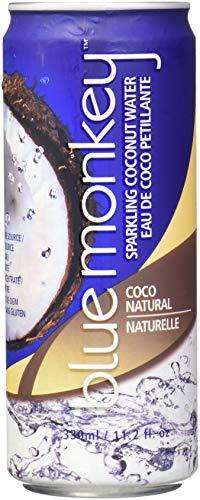 Are you searching for another healthy beverage to offer to your customers? If so, why not offer them Blue Monkey Coconut water?  This coconut water is made from 100% coconut water and it does have some of the pulp from the coconut which adds to its authenticity.  
When you try an eight–ounce can of Blue Monkey Coconut Water, you will find that it's sweet and has the delicious taste of coconut while not being overpowering. 
About Blue Monkey Coconut Water 
In today's world, many consumers are making the effort to give up drinking soda or cut back as much as possible, due to health reasons. 
Thanks to Blue Monkey Coconut Water, consumers can still enjoy a sweet drink without having to consume any potentially harmful chemicals or lots of sugar. 
All of Blue Monkey coconut products & juices are 100% pure – not from concentrate, packed at the source, shelf stable without the use of added preservatives, additives, or sugar AND 100% vegan!
Hydrate with our 100% pure, delicious coconut water. We have a number of Coconut water products which are available in aluminium cans, glass and tetra.
Not From Concentrate | Naturally GMO Free
No Preservatives | No Additives
Excellent source of Electrolytes & Potassium
Good Source of Hydration
Why Coconut Water? 
If you've taken an island vacation, you know that coconut water has been a popular island beverage for centuries because it's a sweet, clear liquid that doesn't contain much sugar or any unnatural chemicals. 
Besides tasting delicious, coconut water also offers healing properties and has also been used at times in the tropics to aid where intravenous rehydration is needed.  
Consumers who are concerned about sticking with all-natural diets can have confidence that with Blue Monkey they are consuming a beverage that's 100% pure, not made from concentrate, doesn't have any extra preservatives, and is also 100% vegan. 
A Better For You Beverage 
Blue Monkey Coconut Water truly is a 'better for you' beverage because it's also non-GMO, doesn't have any preservatives or additives and it's an excellent source of potassium and electrolytes. 
Coconut water has been one of the most sought-after beverages in recent years because it's also a beverage that's high in antioxidants plus it's beneficial to drink coconut water after exercise because it restores hydration fast. 
To learn more about Blue Monkey Coconut water, visit their website today at bluemonkeytropical.com.
---

Home | NEW PRODUCTS | Vending Newsletter sign up | Contact us | SUBMIT PRESS RELEASE
Also see: Beverages, Coffee, Cold Brew, Snacks, Foods, Brokers, Chips, Nuts, Energy Drinks, Energy bars, Fruit Snacks, Meat Snacks, Salty Snacks, Candy, Trail Mix, Gluten Free, Healthy Snacks, Pastries, Cookies, Crackers, Foods, Hispanic Snacks,
Also see: Product Brokers, Product Distributors, Micro Markets | Vending Companies USA
VENDING YELLOW PAGES DIRECTORIES:
Call us at 1-800-956-8363 or POST YOUR COMPANY, GET NEW BUSINESS!