As Snacking Goes More Mainstream, Convenience Services Face Competition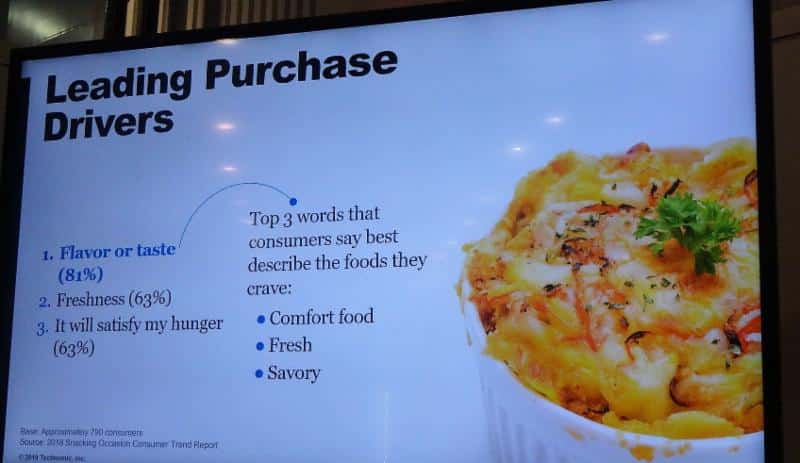 Snacking has become a bigger part of consumers' lifestyles, and convenience service operators are in a great position to cash in on this trend. And so far, they're doing a good job, according to researcher David Henkes, a senior principal at Technomic, speaking at the recent National Automatic Merchandising Association show at the Las Vegas Convention Center.
Henkes presented statistics from his company's 2018 Snacking Occasions Consumer Trends Report along with highlights of his company's third annual "deep dive" of the convenience services industry on behalf of NAMA. The two research reports indicated that 1) consumers now believe snacking is part of a healthy lifestyle, and 2) convenience service operators are aware of the consumer interest in healthier snacks.
Thirty-percent of consumers in 2018 considered snacking between meals as part of a healthier diet.
In addition, consumers also no longer associate "craving" as something that is unhealthy, he said. People now associate "craving" with fresh, comfort or savory.
Technomic found that convenience service operators are promoting more "better for you" offerings in the past two years, Henkes said. In 2016, 88 percent of operators said they promoted healthier beverages, compared to 65 percent in 2014. The same percentage of operators were also promoting healthier snacks in 2016, up from 76 percent in 2014, while 69 percent were promoting healthier prepared foods, compared to 55 percent two years earlier.
While convenience service operators have recognized the trend and are responding to it, they need to continue to promote healthy snacks aggressively, as other foodservice channels are also in the game. Henkes described today's foodservice market as a "hyperchoice" market.
Besides convenience services, Consumers are buying snacks from QSRs, convenience stores, food trucks, food halls, dollar stores, ecommerce retailers, supermarket foodservice, food delivery services and a new class of trade: subscription services.
Snack subscription services include Grazed, Urthbox and Naturebox.
Consumers of all ages are defining snacks differently, he said. The age group that has changed its definition the most are the younger consumers. A third of the consumers 18 to 34 years old see snacking as including more types of food, compared to 22 percent of all consumers.
The majority of consumers, 64 percent, continue to define snacks by time of day they are consumed – during non-traditional meal hours. But among younger consumers, the percentage defining snacks this way is lower at 55 percent.
About half of younger consumers define a snack by the type of item – products sold as snacks traditionally, while 44 percent of younger consumers define snacks based on their size – smaller portion size.
About a third also said they skip or replace one meal per day by snacking, marking an increase in the number who reported doing so two years earlier.
Indulgence still drives a lot of snack buying decisions, Henkes said. The leading motivation for purchasing a snack is still flavor or taste, he said, with 81 percent of consumers seeing these as their main drivers, followed by freshness at 63 percent and satisfying hunger at 63 percent.
Today's consumer no longer eats the standard three meals per day. Less than half (43 percent) of consumers in 2018 said they ate three meals a day with a few snacks between meals, compared to 53 percent who said so in 2016, according to Technomic. So foodservice providers who want to meet customer expectations have to recognize the growing consumer tendency to "graze" or snack.
Pantry service offered by convenience service operators is expanding especially fast, Henkes said, and micro markets are especially popular with younger consumers.
By Dean Gilland, Editor
---

Home | NEW PRODUCTS | Vending Newsletter sign up | Contact us | email press release
Also see: Beverages, Snacks, Foods, Brokers, Chips, Nuts, Energy bars, Fruit Snacks, Meat Snacks, Salty Snacks, Candy, Trail Mix, Gluten Free, Healthy Snacks, Pastries, Cookies, Crackers, Foods, Hispanic Snacks,
Also see: Product Brokers, Product Distributors, Micro Markets | Vending Companies USA
VENDING YELLOW PAGES DIRECTORIES:
Call us at 1-800-956-8363 or POST YOUR COMPANY, GET NEW BUSINESS!