Why Buy New Vending Machines? New Vending Machines for sale! New Vending Machine Suppliers
The advantages of buying NEW vending machines…
New Vending Machines for sale!! The advantages of Buying New Vending Machines- they come with factory direct warranties and they usually do not breakdown within the first year of two depending on the use.
You can special order new vending machines too. New Snack, Soda, Drink Bottle, Snack, Food, Deli, Hot Food, Combination (combo), Cold Food, and many more specialty vending machines are for sale.
You can buy new vending machines from vending machine distributors or direct from the vending machine manufacturers.
You must secure New Machine Locations quickly to get the machines working right away making you money! You can use the brochures from the manufacturers to show potential Location managers who make the decisions. LOCATION-LOCATION-LOCATION high traffic locations are a must!
Post a Photo Display ad to introduce your NEW MACHINES! Only $150 per month,  Photos and Links Included – Get Results Fast!
---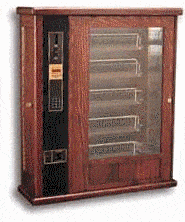 You can Wall Mount our durable CIGARETTE vending dispenser almost anywhere. ATTRACTIVE DESIGN, RELIABLE, and EASY TO USE! Actual size is 37'H X 32'W X8″D. ***Only 3 feet tall ***Available in Many colors.
CALL 1-866-580-3328 TODAY for FACTORY DIRECT pricing and Warranty with the Manufacturer! The Mark X, Continental, and Cigar Shoppe can be fitted with a MEI Coin Mech, Bill Validator, Credit Card Processor, or Coupon Reader. Our machines can dispense cigarettes, cigars, condoms, feminine products, to hotel amenities to name a few.
Also, see our special pricing on this MV5 cigarette vending machine.
For more information visit our website at: www.slimlinedesigns.com/products.html, or email info@slimlinedesigns.com, or Toll Free 1-866-580-3328.
Click here for more details on Cigarette Vending Machines for sale! 1-866-580-3328
---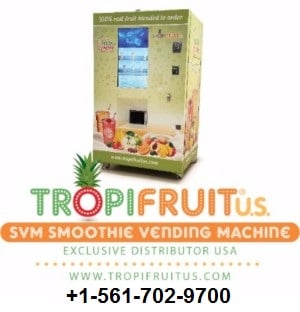 TropiFruit US is proud to present the world's first "on-the-spot" fresh smoothie making vending machine. Made in the U.S.A., the TropiFruit US smoothie vending machine is the result of over four years of engineering, R&D and testing. This easy to operate machine is suitable for placement in airports, schools, hospitals, office buildings, or any other high traffic location. Our SVM is the first Smoothie Vending Machine that makes freshly on-at-a-time smoothies from all natural and the highest quality fruits. A freshly made and nutritious smoothie, provides customers with a healthy alternative to "Fast-Food" in the most convenient and affordable way. Don't miss the opportunity to join us for the Smoothie Revolution!
Please contact me at your convenience so I can answer any questions you may have about this exciting opportunity in healthy vending.
---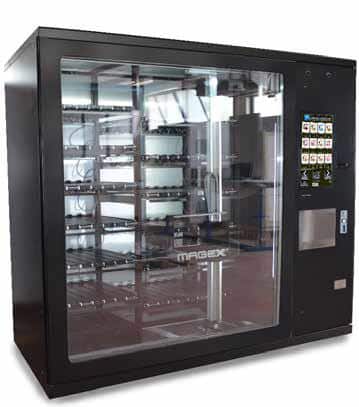 MagexUSA's 'Colosseo' Features A Double Internal Stocking System
MagexUSA, an Alps Innovations Group company, announced the introduction of the "Colosseo," a patented automated retailing system that has features never before seen in vending. The Colosseo has a unique double internal stocking system that allows up to 12 floors of varying heights. A robotic system transports products from shelves to the dispensing area. Photo sensors are able to recognize products and verify dispensing. For high-value items, special microchips can be added, ensuring security and validation. The Colosseo also has a self-diagnosis system that checks the operating status of the lane before product disbursement.
For more information visit: www.AlpsKiosks.com
---
WHAT MAKES A HEALTHY SNACK by GrowHealthyVending.com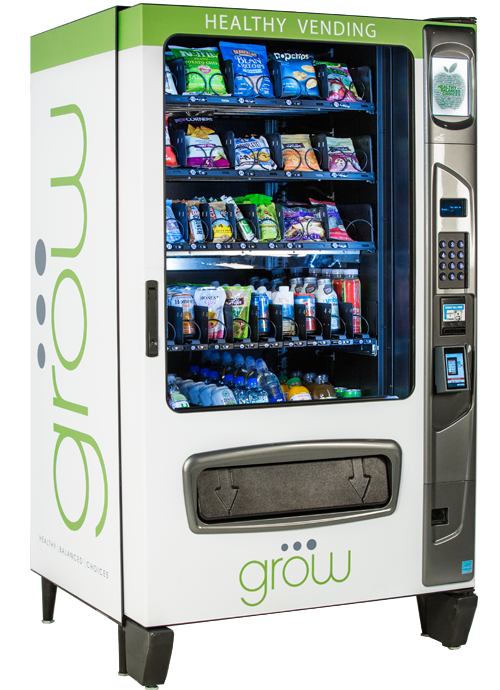 We all know that we should be snacking healthier, but what does that actually mean? When you're feeling sluggish in the afternoon you might just reach for whatever is nearby. But if you plan ahead (or if you're lucky enough to have a Grow Healthy Vending machine at your office!), then you'll have healthy snacks at the ready so you can make sure you're not slipping! To make sure that you're choosing wisely, try and stick to these guidelines for your snacks: Calories: a snack with high nutritional value should have between 150 and 300 calories. Sugar: your daily cap for sugar is 25 grams so a healthy snack should not have more than about 5 grams of sugar. Fat: Look for snacks that are low in total fat and saturated fat while having NO trans-fat. Fat should make up 20-30% of your daily calorie intake. Sodium: Many Americans eat too much salt and most of that salt (about 75%) comes from eating packaged foods. Make sure to check your labels!The daily recommended amount of sodium is 2400 milligrams so a healthy snack should be less than 10% of your daily salt intake. Tips: You want to make sure that you're not eating a sugary snack (oranges, apples, etc) alone. Try and pair them with some nut butter or a string cheese. Eating protein with your fruit will not only keep you feeling full longer, but it will also slow the release of sugar into your bloodstream, preventing an insulin spike. When your insulin spikes, you can crash and then you'll just end up looking for another snack. Your main goal in searching for a healthy snack should be to find something that has a high nutritional value. That means you'll be looking for something high in protein, vitamins and minerals. The best way to achieve this is to pair different foods. Everyone will have different snacking needs depending on their lifestyle. If you're eating three meals a day, you may need to eat one or two snacks to keep yourself going. If you're a person who eats dinner early – more than three hours before bed – then you may need a nighttime snack. Or if you're heading to the gym for a strenuous workout (running, biking, etc) you will want to eat a snack about an hour before. Make the right choice! What do you think will fill you up and keep you full? String cheese and peanut butter or Doritos and donuts? Become a Grow Healthy Vending Operator, Call 800-310-0707 or visit website for more info GrowHealthyVending.com
---

Also see: more Vending Machine Suppliers,
---
Only $125 per month,  Photos and Links Included – Get Results Fast!
Your ad will be posted within 24 hours!!   To edit your ad please e-mail us
Any questions about NEW vending machines? Sign up for FREE newsletter!
Also see: Home | Classified Ads | Trade Shows | Vending Technology News | Routes for Sale | Locators | Distributors | Machine Manufacturers |
THE VENDING YELLOW PAGES DIRECTORIES:
POST your NEW Vending Machines Photo Display Ad- Only $150 -Get New Business!!