Why Buy New Vending Machines?
The advantages of buying NEW vending machines…
New Vending Machines for sale!! The advantages of Buying New Vending Machines- they come with factory direct warranties and they usually do not breakdown within the first year of two depending on the use.
You can special order new vending machines too. New Snack, Soda, Drink Bottle, Snack, Food, Deli, Hot Food, Combination (combo), Cold Food, and many more specialty vending machines are for sale.
You can buy new vending machines from vending machine distributors or direct from the vending machine manufacturers.
You must secure New Machine Locations quickly to get the machines working right away making you money! You can use the brochures from the manufacturers to show potential Location managers who make the decisions. LOCATION-LOCATION-LOCATION high traffic locations are a must!
---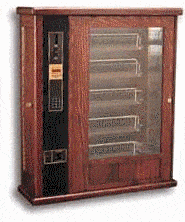 You can Wall Mount our durable CIGARETTE vending dispenser almost anywhere. ATTRACTIVE DESIGN, RELIABLE, and EASY TO USE! Actual size is 37'H X 32'W X8″D. ***Only 3 feet tall ***Available in Many colors.
CALL 1-866-580-3328 TODAY for FACTORY DIRECT pricing and Warranty with the Manufacturer! The Mark X, Continental, and Cigar Shoppe can be fitted with a MEI Coin Mech, Bill Validator, Credit Card Processor, or Coupon Reader. Our machines can dispense cigarettes, cigars, condoms, feminine products, to hotel amenities to name a few.
Also, see our special pricing on this MV5 cigarette vending machine.
For more information visit our website at: www.slimlinedesigns.com/products.html, or email info@slimlinedesigns.com, or Toll Free 1-866-580-3328.
Click here for more details on Cigarette Vending Machines for sale! 1-866-580-3328
---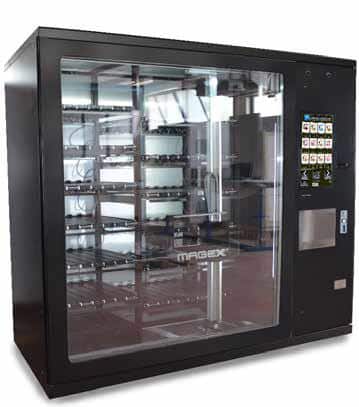 MagexUSA's 'Colosseo' Features A Double Internal Stocking System
MagexUSA, an Alps Innovations Group company, announced the introduction of the "Colosseo," a patented automated retailing system that has features never before seen in vending. The Colosseo has a unique double internal stocking system that allows up to 12 floors of varying heights. A robotic system transports products from shelves to the dispensing area. Photo sensors are able to recognize products and verify dispensing. For high-value items, special microchips can be added, ensuring security and validation. The Colosseo also has a self-diagnosis system that checks the operating status of the lane before product disbursement.
For more information visit: www.AlpsKiosks.com
---

Also see: more Vending Machine Suppliers,
---
Any questions about NEW vending machines? Sign up for FREE newsletter!
Also see: Home | Classified Ads | Trade Shows | Vending Technology News | Routes for Sale | Locators | Distributors | Machine Manufacturers |
THE VENDING YELLOW PAGES DIRECTORIES: