Digital Checkouts Delivers a Major Upgrade for Foodservice Cafes & Micro Markets
Michigan-based Digital Checkouts is changing the micro markets game once again, at this past 2017 NAMA OneShow in Las Vegas they debuted a versatile, innovative and cost-saving self-order kiosk system.
Designed by food industry and software veterans, Digital Checkouts is an all-in-one point of sale system that's miles ahead of the competition and guaranteed to dramatically lower labor costs and boost sales by 15 percent or more.
How so? Digital Checkouts uses breakthrough technology that allows customers to place and pay for orders in advance, either through a website, mobile phone app or in-person at the kiosk, and pick up their fresh food minutes later. Digital Checkouts cuts wait times by 50 percent or more.
The beauty is the system's versatility and practicality. Digital Checkouts is flexible enough to be both a register and a kiosk. It can be staffed by a cashier during peak hours and, when it's less busy, rotated around and become a self-service kiosk, saving time and payroll costs. In all, there are five models designed to fit every business need. And each is fully integrated with all-in-one software that eliminates the need for separate programs to track inventory and sales.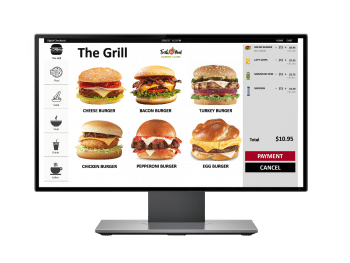 Sterling Services, a Canton, Michigan, corporate foodservice and vending company is among the first customers to use the new self-order kiosks in its client cafeterias. Sterling CEO Ray Friedrich predicts Digital Checkouts will do for corporate cafes what micro markets did for vending. "This is by far the easiest self-order and self-checkout," Friedrich said. "Lines are going to be shorter. Customers are going to be happier. And happy customers spend more money."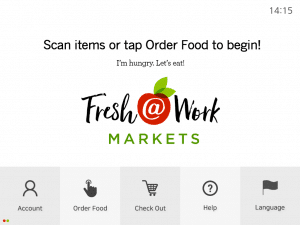 The project has been two years in the making for Digital Checkouts. Digital Checkouts CEO Jim Bishop assembled a team of software developers, foodservice operators and security experts to launch the point-of-sale and self-order system. Bishop said Digital Checkouts will yield a one-year return on investment, compared to a three-year return for a similar machine without self-ordering capabilities. The new self-order and self-checkout system from Digital Checkouts comes amid huge growth in both mobile order-ahead and micro markets. Still in its infancy, using mobile apps to order ahead and pay for food at fast casual restaurants is expected to be a $38 billion industry by 2020, according to a recent report from Business Insider.
"Wendy's is doing it. McDonald's too. Even your grocery store is adding self-ordering systems," Bishop said. "Digital Checkouts brings these same state-of-the-art technologies to bear for independent companies on a budget." Micro markets will continue to rebound from the Great Recession, generating $2.1 billion at 35,000 locations by 2022, according to Bachtelle & Associates, a research and consulting firm for the industry.
Digital Checkouts kiosks have been running in select locations in the Midwest and East Coast, but it got its national industry debut at NAMA OneShow, the premier trade association convention for food and refreshment vending, coffee service and corporate catering. The convention is April 19-21 at The Venetian, 3355 S. Las Vegas Blvd., Las Vegas, NV 89109. "We're excited to show foodservice operators and market owners the endless possibilities Digital Checkout affords," Bishop said.
For more information about Digital Checkouts, go to its website at digitalcheckouts.com or call 844-201-4121. Email Jim Bishop.
---

| Home | Vending Technology News | More News | Vending Newsletter sign up | Questions? Contact us | email press release
Also see: Software Companies | Technology Companies | Micro Markets | Distributors | Mfgrs | Classifieds | Home |
VENDING YELLOW PAGES DIRECTORIES:
Call us at 1-800-956-8363 to POST YOUR COMPANY, or QUESTIONS?