LAI Games to Make Big Virtual Rabbids Announcement at ShowUp
Dallas, January 28, 2021 – In case you need one more reason to "show up" to the ShowUp virtual trade show for FECs next week, founding sponsor LAI Games will share big news on their top-earning unattended VR attraction, Virtual Rabbids. To be the first to hear the announcement, visit the LAI Games booth at the beginning of Trade Show time slot next Monday, February 1st. Check the schedule in your time zone at https://showup.events/full-schedule/

"Given the challenges of the past year, we are making it easier than ever for operators to succeed with proven, premium VR," said LAI Games Marketing Director, Tabor Carlton. "Stop by our booth next week at the show to find out how."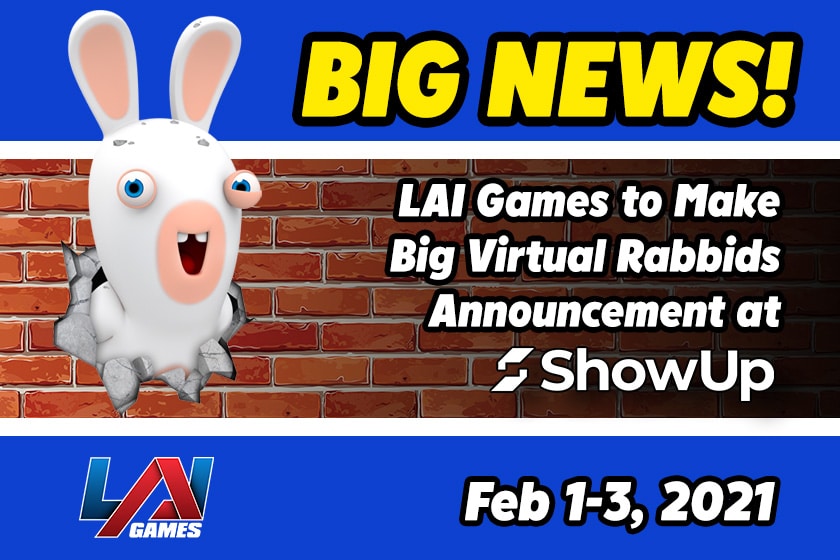 LAI Games will also sponsor a panel on Day 2 of ShowUp discussing The Impact of COVID-19 on LocationBased Virtual Reality. With representatives from both the supplier and operational sides, the panel will address the implications that COVID has brought to Location-Based VR for 2021 and beyond. Other panelists alongside LAI Games will be Jan Goetgeluk, CEO of Virtuix, Ryan Brooks, CEO of Ctrl V, and Jessica Doty, Internal Operations Director for Andy B's Entertainment and Bowling Centers.
The panel will be moderated by industry veteran George McAuliffe, President of Pinnacle Entertainment Group.

ShowUp will take place Feb 1-3, 2021. For more information and to register, visit www.ShowUp.events.

Pay what you want ticketing ends Friday Jan 29, so if you haven't registered for the event yet, now is the time.

About LAI Games
LAI Games, a subsidiary of Helix Leisure, has been a leader in the interactive entertainment and game industry for over 60 years. The company develops, manufactures, and sells coin and card operated
virtual reality, prize merchandising, video and ticket redemption games, photo booths and novelties. LAI Games is dedicated to bringing innovative and high incoming-producing games to the global market. For more information, please visit www.LAIGames.com.

Follow LAI Games across all their social channels: laigames.com/social
About ShowUp
ShowUp is the new social convention and product launch platform for the location-based entertainment industry. Its inaugural trade show will run from February 1-3, 2021, featuring 80 speakers and more than 40 exhibitors showcasing solutions to the problems faced by today's family entertainment center operators. ShowUp was founded by virtual keynote speaker Bob Cooney, human-centered design expert Kylie Savage, and trade show veteran Chris Albaugh.