Just Baked Intros Smart Bistro to Students at UNLV!
Automated Retail Technologies and their Just Baked Smart Bistro Kiosks deliver hot, fresh food to students in the student union and dorms at University of Nevada, Las Vegas (UNLV).

Launching in partnership with First Class Vending, who will operate the Just Baked Smart Bistro kiosks at the UNLV campus. Students on campus have the option to order hot meals like White Castle Sliders, Wow Bao Asian Street Food, cinnamon rolls, lava cakes, and breakfast sandwiches.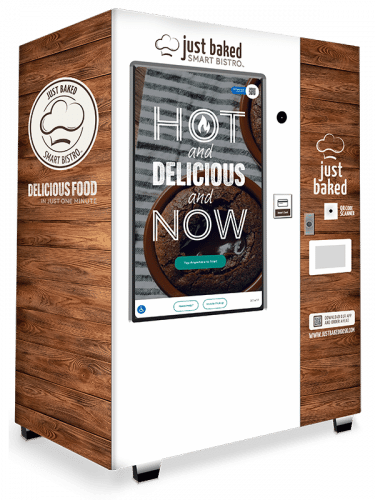 These self-service smart machines bring fresh and delicious food straight to the customer with convenience and ease. The ordering process is effortless – customers simply touch the display to view meal options and then select a hot and delicious meal that is ready within one minute. The Smart Bistro is safe, clean, and offers different payment options including credit and debit cards, student cards, and the Just Baked app.
Just Baked will be launching with other vending operators nationally to deploy kiosks. They are currently looking to expand their business with new partnerships to introduce the future of food ordering throughout the country. Hundreds of Just Baked Smart Bistros will be placed throughout the United States by the end of this year.
Power Requirements: 220V 30amps
Plug type: 30 AMP, 250V, 3 wire, single phase, grounded
Dimensions: 48″ wide X 39″ deep X 76″ tall
Weight: 1,200 lbs.
Indoor use only
ADA Compliant
NAMA Certified
Zero Food Contact Surfaces
Internal Connectivity – no wifi access needed
Capacity: Up to 68 servings
50″ touch display
Touchless Ordering Option
About Just Baked
Automated Retail Technologies delivers great tasting food to consumers through intelligent kiosks. The Just Baked Smart Bistro offers fresh oven-baked foods for Breakfast, Lunch, Snacks, Dinner, Desserts, as well as Healthy alternatives. The 50' touchscreens bring the food to life and make ordering fast and easy.
For more information, please visit:www.justbakedkiosk.com, Email info@justbakedkiosk.com or Call (858) 429-0444.
To learn more about Just Baked Kiosks, visit this YouTube video: https://youtu.be/0uPUB4FTrGo