Healthy Vending Machine Business? Healthy Vending Business Start Up Information!
HEALTHY VENDING MACHINE BUSINESS
Did you know that Healthy products are now an option for selection in vending machines- especially in schools?
This "Healthy Vending" craze is here to stay! also, EATING HEALTHY AT WORK!
Healthy products that are now available: new low carb, low fat, soy snacks, organic products, fruit snacks, low carb juices and non carbonated drinks are among the favorite choices for "healthy" vending consumers today. Fresh Food Vending, Milk vending, energy drinks, energy bars, bottled water and more! Click here for the newest in healthy products for vending machines.
Very important: LOCATION-LOCATION-LOCATION, high traffic locations is a big factor in being successful with your Healthy Vending Machine Business! Placing the right healthy products to keep the consumer happy.
---
Did you know that you can have healthy products in your current vending machines?
Looking for Healthy vending machines for you school, office, or any place of business? Contact the healthy suppliers listed below.
Healthy Vending Machines ,
and more Healthy vending Machine Suppliers! and/or Healthy Snack Suppliers!
---
Healthy snack options for vending machines are on the rise. In addition to natural foods companies increasing their product choices, more traditional companies like Frito-Lay and others are adding healthy snacks to their menu of choices for vending. Categories like Fruits, Seeds, Nuts and Jerky have always offered healthy snack choices. Within the last several years there has also been an increase in the healthy vending machine snack categories of Cookies, Crackers, Nutritional Bars and Cereal & Granola Bars. Most recently, there has even been an increase of healthy snack choices in the Chips & Pretzels and Candy Bars & Gum healthy snack categories. As vending consumers continue to choose healthy snacks over traditional (and unhealthy) snack products, manufacturers will continue to introduce new healthy snacks for the vending industry.
---
---
FIND Healthy Vending Service Operators in your Area USA here!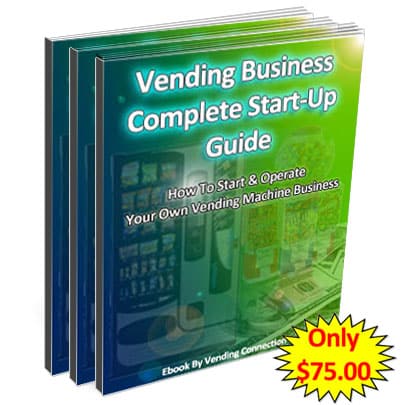 **Also see The Vending Start-Up E-Kit© for full information on How to start your very own Vending Machine Business!
THE COMPLETE STEP-BY-STEP VENDING REFERENCE EBOOK, on How to start and manage your new vending machine business in 2015!
Are you interested in finding out how to start your own vending business? Part time? Full Time?
You can start your vending machine business NOW with little or no money down!
ALL TYPES of vending machine business opportunities are featured in The Vending Start-Up E-Kit©.
This Vending Start Up EBook is packed full of detailed information about vending businesses. Only $75, download this .pdf file to your computer for reading! Order ebook here.