Five Star Deploys Nayax VPOS on 20,000 Machines in 8-State Network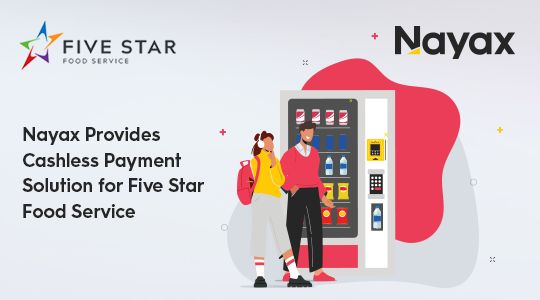 Tennessee-based Five Star Food Service is deploying the Nayax VPOS Touch Reader on 20,000 machines in its eight-state unattended system to manage payments and consumer engagement. Five Star is a Canteen operator, with locations in Tennessee, Georgia, Alabama, Mississippi, Kentucky, Ohio, Indiana, and North Carolina.   
VPOS Touch integrates telemetry, cashless clearance, monitoring, management and a BI system, while accepting all cashless payment methods.
With a hi-resolution touch screen and built-in camera, operators using VPOS Touch can offer instant refunds, e-receipts and increase sales with on-the-spot offers, coupons and loyalty cards, opening marketing and social opportunities. A smart technician mode is available for better machine management and reduction in maintenance time.
VPOS Touch is a chip-card enabled, EMV-certified cashless payment device accepting payment transactions via credit/debit cards, prepaid cards, mobile app payments and QR codes.
The unit accepts cashless payment from all leading payment methods, including VISA, Mastercard, PayPal, Apple Pay, Samsung Pay, Android Pay, We Chat Pay, AliPay, Nayax's own Monyx Wallet payment app and more.
Five Star already uses VendSys, another arm of Nayax, which develops cloud-based management software.
"With significant changes in card brand EMV requirements and 4GE LTE compelling us to upgrade our fleet of cashless payment readers, we chose Nayax due to their expertise and proven readiness as the only company providing EMV-certified devices for more than five years," said David Hartig, CIO of Five Star.
According to Hartig, Five Star was concerned about the installation time for the initial machines, but said upgrading was easy because of the Nayax plug and play technology and FastFit intstall brackets. Hartig said no additional holes were needed to quickly and securely install the devices.
"Nayax's VPOS Touch screen card readers are a win-win. They combine an appealing design with durability for our most-demanding high traffic vending machine locations," Hartig added.
Greg McCall, chief revenue officer at Five Star, said Nayax has been able to help the operator deliver a flexible, customizable consumer experience. "The VPOS Touch ability to create added value for the consumer while driving increased sales through discounts and promotions at the machine is a game changer," he said.
Carly Furman, CEO, Nayax LLC, said Nayax has invested significant resources to provide customers with solutions that increase revenue and operational efficiency. "With an in-house research and development team, Nayax is fully positioned to address customers' needs. As Nayax is a technology-driven company, we are uniquely positioned to assist Five Star with their goals to improve customer service and satisfaction. With their use of VendSys, we're excited to be a 360-degree cashless and management solution technology partner." Nayax has eight global offices, over 600 employees, connections to more than 80 merchant acquirers, payment method integrations and is a recognized payment facilitator worldwide.
For more information about Nayax visit www.nayax.com.
For more information about Five Star, visit https://fivestarfoodservice.com/