Celsius Is Luring New Customers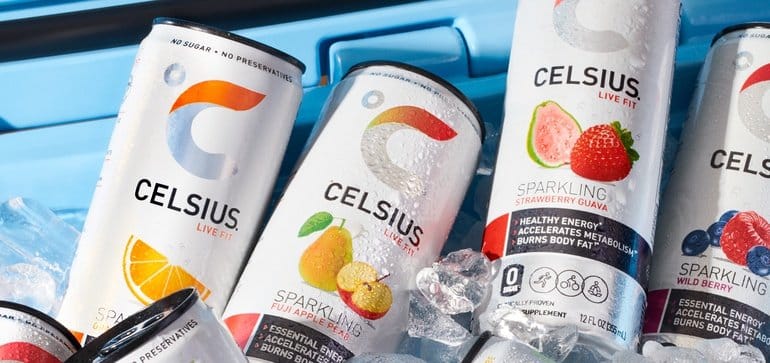 Despite the pandemic and fierce competition from Red Bull and Monster, the company expects record sales of its functional beverage this year after posting a 74% jump in 2020.
As the reaches of the pandemic infiltrated the CPG space in 2020, John Fieldly, CEO of Celsius Holdings, watched convenience stores, where the energy drink company was preparing for more shelf space, delay their spring product resets.
Supply chain logistics were deeply hampered. The fitness channel, a key avenue for sales, was largely shuttered, and gatherings such as tennis tournaments or marathons where people used to sample the product, were canceled. Fieldly quickly convened a series of task forces to help Celsius navigate through COVID-19.
But instead of floundering, the 16-year-old Celsius thrived.
The Florida-based beverage maker soon launched "Sweat with Celsius," online classes on the company's Instagram page that allowed it to reach many of its core clients. It partnered with Instacart, where Celsius was the lead sponsor for its online energy drink aisle, and worked with other retailers like Food Lion and Amazon to promote its products on their e-commerce platforms.
"We're just scratching the surface with Celsius," said Fieldly. "With a 2% share in the category, [we're] just seeing massive opportunities that lie ahead."
The U.S. energy drink sector is one of the strongest performers in the nonalcoholic space. Retail sales of energy drinks totaled $10.43 billion in 2015 and are projected to nearly double to $19.15 billion in 2024, according to Mintel. The category rose 9.2% in 2020 alone, with Celsius a big contributor to the increase.
The company, which was founded in 2005, has its products carried on Amazon and in more than 100,000 retail locations, including Target, Walmart, CVS and 7-Eleven, up 20,000 stores from the beginning of this year. The brick-and-mortar expansion, and thriving business online, was especially valuable during the pandemic when sales to gyms and fitness centers declined. These exercise channels have since rebounded, climbing more than 100% in the second quarter.
Fitness-oriented beverages are viewed as another way to expand the energy drink category. As consumers move away from drinks loaded with sugar and ingredients on the label they don't recognize — a trend that has only accelerated during the pandemic — companies such as Celsius offering better-for-you products are among the biggest beneficiaries.
"What we're seeing is new consumers that are coming to the category don't want their grandfather's energy drink. They don't want Red Bull. They don't want Monster with all the sugars," said Fieldly. "These brands that are more traditional energy are just not on trend today and not what the consumer wants, and it's being reflected in the data."
Celsius also is dabbling in protein bars, which Fieldly said is a natural pairing with its energy drinks. So far, the bars are only for sale on Amazon, but the hope is they will eventually make their way into retail stores. Despite the promise of food, Fieldly is careful not to divert his focus from where the real growth is: its core energy drink business.
"We do have something special here in Celsius and it's appealing to a much broader audience than it has historically," he said. "The opportunity we have is massive."
For more information visit https://www.celsius.com/