Castles Technology's Newly Designed SATURN1000-E UPT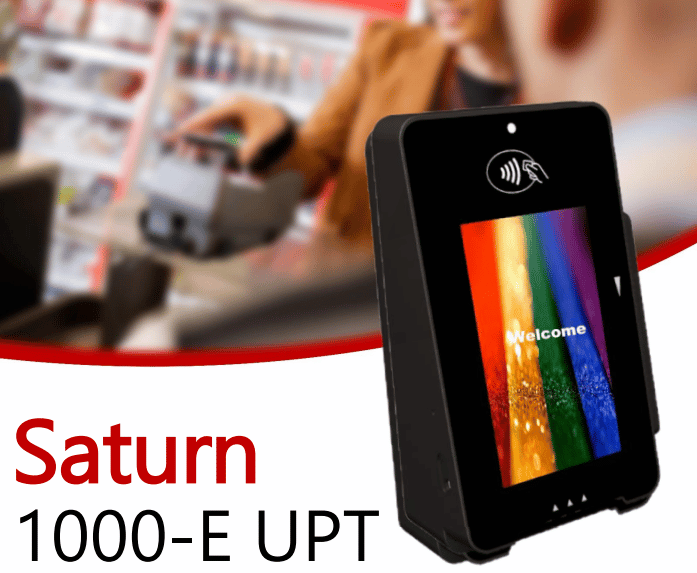 One of the most important things to consider when you have a micro market, or unattended retail business is offering a simple checkout process.

Thanks to the newly designed SATURN1000-E UPT by Castles Technology, operators finally have an easy-to-use, unattended terminal, that will make the checkout process a breeze.

About The SATURN 1000-E UPT

With more businesses converting to unattended retail, it made sense for Castles Technology to release their SATURN-1000E, a Wi-Fi-enabled terminal that comes with a front camera, microphone, Bluetooth, and barcode reader.

Based on a secure Android platform, this terminal also includes an integrated contactless reader and 5" touch screen, but what's most ideal is that it can be used for coolers, vending machines, or any unattended application.

Made by Taiwan-based Castles Technology, a leader in the payment systems industry since 1993, operators who use this terminal will have peace of mind in its reliability and durability since terminals made by Castles Technology are used by a variety of industries worldwide.

Unprecedented Security and Certifications

As unattended retail becomes more in demand in the 2020s, consumers are still concerned about the security of their payment methods when they check out from a location. Thankfully, when a consumer used the SATURN 1000-E UPT, they can have confidence that their payment method is going to be protected during their secure transaction.

This reader comes with EMV contact/contactless v1, contactless scheme certifications, and a high-security processor that works well under extreme conditions.

Never Miss a Transaction Again

If you're tired of losing money at your unattended retail business, or micro market, because your customers have time to stand in line, this terminal is for you.

The SATURN 1000-E UPT can be set up in minutes, and at only 600 grams, it's light and able to be placed anywhere you want to offer your customers a fast, convenient checkout option.

To learn more about the Castles Technology SATURN 1000-E UPT, visit their website at https://castlestech.com or call 470-273-6350.