BevMax 4 Glass Front Vendor by Crane Merchandising Systems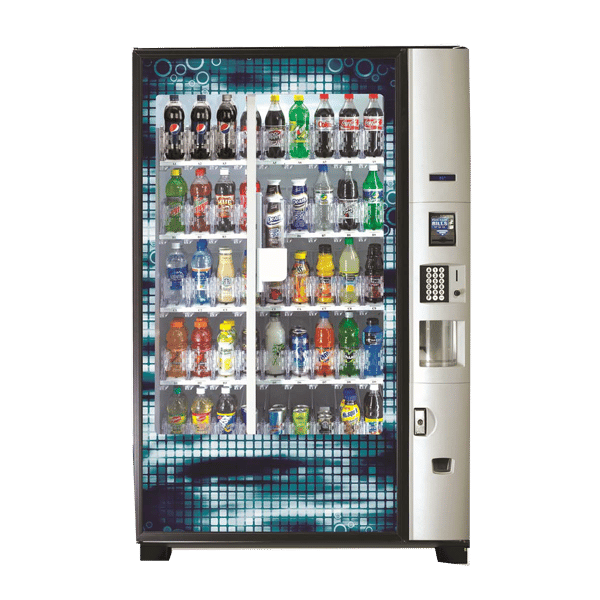 Planning on updating your vending machines? If so, why not consider adding a BevMax 4 glass front vending machine to your portfolio of vending machines?
Produced by Crane Merchandising Systems, the BevMax 4 is a glass-front vending machine that offers you the ability to display 45 different drink selections at a time.
Greater variety means consumers will no longer walk away disappointed regardless of if they are visiting your vending machine in the morning, noon, or evening.
Small Footprint
Besides having a glass front, this vending machine also offers a small footprint as well.
At D 33.5″ x W 39″ x H 72″ it can fit almost anywhere, especially through narrow doors, or spaces where you may have tried to place vending machines in the past.
Th BevMax 4 vending machine is also ADA Compliant, and it exceeds Tier 3 Energy Star ratings as well, but what's most ideal is that these Energy Star ratings also mean that this machine will save you about 30% off your monthly energy costs.
Extensively Tested
Yes, the BevMax 4 is an ideal vending machine because it displays all its merchandise for consumers to see, but what's most ideal is that it's been extensively tested both in the lab and in the field.
During recent field tests, the BevMax 4 was tested with more than 200,000 vends, and it had just 9 failures. These awesome statistics show that this vending machine is designed to withstand high-traffic locations while bringing in maximum ROI.
Learn More
To learn more about the BevMax 4, by Crane Merchandising Systems, visit their website at www.cranepi.com.