Vending Industry Statistics USA: Vending Times offers an updated Census of the Vending industry. Vending Revenue, Amusement, Coffee Service, Foodservice, Coin Op Amusement, Bulk candy vending, Snack, Soda and much more! Vending Times has been reporting on industry trends for over 50 years! Vist website at: www.vendingtimes.com

New Vending Industry Stats International: http://www.vending-europe.eu/en/vending-market
Brussels, 23 June - The report is a follow on from the full market and consumer studies conducted in 2008, which were designed to offer an in-depth understanding of the sector, identifying the main drivers and barriers affecting the vending industry and analyzing key consumer trends. Additionally, the EVA presents a special report examining the impact of the recession on the European Vending Industry in 2009. The 2009 KPI update provides key market metrics supported by in-depth interviews with EVA members and other vending operators, ingredients manufacturers, machine brokers, cup manufacturers and industry experts.
Please follow this link to have more information on the KPI report. http://www.vending-europe.eu/en/market-studies/
About the European Vending Association -The European Vending Association (EVA) is a not-for-profit organisation established in Brussels. It represents the interests of the whole European vending industry vis-à-vis the European Institutions and other relevant authorities or bodies.

www.AmOnline.com - Visit Automatic Merchandiser Online Website for Up-to-Date Vending Business industry reports.
Automatic Vending Association - Vending Facts and Statistics,
Visit our website for more information:
http://www.ava-vending.org/site/ava/facts-and-stats

Play Meter Magazine's State of the Industry Report- Click here These statistics appear in our January 2007 issue.Please contact Renee if you would like a hard copy of this informative report or past reports. Phone: 504-488-7003, Fax: 504-488-7083, email: subs@playmeter.net
ARCADE INDUSTRY STATISICS-For statistics about the arcade/FEC industry, we advise you to contact the International Assn. for the Leisure & Entertainment Industry (IALEI). They constantly poll their membership and also publish annual surveys. Their executive director, Carole Sjolander, may be reached at this email address: info@iafec.org or by mail or phone at: International Assn. for the Leisure & Entertainment Industry, c/o Executive Director Carole Sjolander, New Hampshire Office, 33 Henniker St., Hillsboro, NH 03244. Combination phone/fax: 603/464-6498. Fax only: 603-464-6497. Their website is http://www.iafec.org.
RePlay Magazine also has its Ultimate FEC Checklist on-line...this useful feature article, which appeared in our September 1997 issue, is a compilation of great ideas pulled from dozens of essays, opinion columns and interviews with and by industry experts on the subjects of FEC and LBE planning, management and philosophy from our 1994, 1995 & 1996 issues.
Vending Statistics from Hoovers.com -
The US vending machine operators industry includes about 5,000 establishments (single-location companies and units of multi-location companies) with combined annual revenue of about $6 billion. Major companies include divisions of Coca-Cola, Compass Group, ARAMARK, and Sodexo. The industry is fragmented: the top 50 companies generate about 40 percent of industry sales. Click here for more...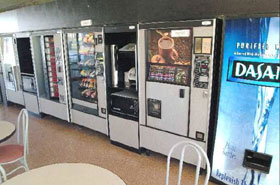 Want find a vending service company to place vending machines in your business or office for FREE?
Click on the following links to find a vending machine
service supplier in your area!
Vending Service Operators - USA
Vending Service Operators - CANADA
Vending Service Operators - INTERNATIONAL
OFFICE COFFEE SERVICE COMPANY OPERATORS - USA