Transfer your Breakroom to a Self Check out Market!
Three Square Market is pleased to announce its' no franchise-fee Micro Market solution.
Founded on the backbone of a ten year kiosk system, Three Square Market makes the Micro Market affordable for any vending company. Our system offers a complete solution from a time-tested kiosk, smart phone applications, complete inventory and financial management software, and a well established product distribution and support system.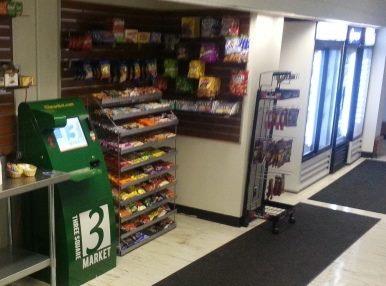 Three Square Market is a subsidiary of TurnKey Corrections,
a leading provider commissary and video visitation technology to the corrections industry. Franchise partners will also have the opportunity to become a commissary franchise partner in select areas opening the door for vending companies to profitable government contracts with a proven system.
Last, Three Square Market offers the latest in technology with a full array of smart phone apps, an array of ancillary services such as dry cleaning pick up, and an advertising revenue stream through its'
www.BreakRoomAds.com
strategy.
"A Rolling Profit Center- offering Mobile Automated Retail Solutions!"

Carts Blanche, LLC. "VendaCarts" offers a comprehensive business design solution without the expense and delays of customization. The integration of mobility and automated machines moves vending from the traditional bricks-and-mortar into an untapped reservoir of customers and sales. VendaCarts bridges the gap between vending and food trucks for sale, catering trucks for sale, lunch trucks, concession food trailers, catering trailers, a mobile kitchen or any other food truck or food trailer. VendaCarts 20" trailer holds 5 vending machines while the 20' unit has 7 vending machine onboard and the 27' trailer can accommodate nine vending machines. All VendaCarts trailers can be equipped with either 8 microwaves, 4 ATM's, 6 change machines, 4 condiment stands or a combination of these items.
"VendaMarts" is an innovatively smart and technologically driven Mobile Automated Retail Store. The kiosk design is equipped with eight built-in refrigerated/frozen vending machines and a combination of technology units such as ATM's, digital signage/LCD (optional). All equipment is configured with remote monitoring systems for easier business management in real time, online. The kiosk system runs on line power and/or generators. Automated machines accept a combination of cash, EBT, credit and debit cards for convenient fast transaction.



Carts Blanche LLC, is America's premier "Mobile Automated Kiosk" manufacturer, with an
outstanding "Healthy Nutritional Product Delivery System" for Food Deserts. Contact us today for more information on how we can help you get started! ***We are looking for Sale Representatives too!
Visit website at www.CartsBlancheOnline.com, email an@cartsblancheonline.com



Call Office at: (251) 786-5852
Financing Available - 2% Cash Discount - 2 week Free Consultation!
-AN INNOVATIVE AND PROVEN SERVICE SOLUTION FOR RETAIL-
A Shop24 Store provides your customers increased convenience and satisfaction, while offering a new revenue opportunity, with complete revenue accountability.
Shop24 is the market-leading, self-contained, totally automated, robotic and refrigerated convenience store designed to enable 24/7 accessible consumer purchasing.
Anything Anywhere Anytime! Call: 1-866-973-2424


Visit Shop 24's website at: www.shop24global.com,
Contact Brandon at 404-434-4103 or email him at bthomasason@shop24global.com
Zoom Systems, Automated Retail Vending Systems! ZoomSystems fully automated robotic stores are located in high-traffic areas and use technology to provide consumers simplicity, speed and easy access to popular brand products. Leading consumer product brands can sell their latest products through ZoomSystems' channel to generate incremental revenues with powerful execution of their brand strategy. Shoppers select products via an easy-to-use touch screen graphic interface, finalize purchases with a credit or debit card and receive products immediately via robotic arm. All of Zoom Systems' robotic stores are networked and centrally monitored, ensuring high reliability and customer service levels. Based out of San Francisco, California.

Phone 415-864-8100 or 877-New-Zoom,

sales@zoomsystems.com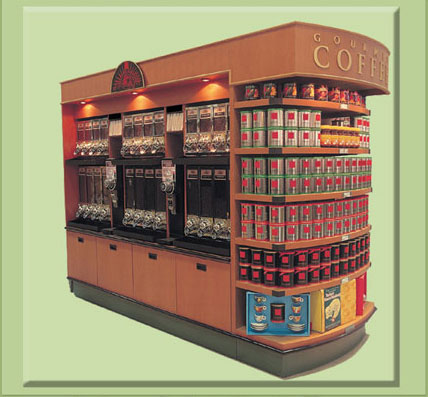 Plastic Parameters Inc. has been designing and manufacturing whole bean and brewed coffee merchandising systems and accessory products since 1995. Our products can be seen in grocery stores, supermarkets, convenience stores, gas bars, coffee shops and anywhere else where whole bean and /or brewed coffee is sold. Based in Canada, we ship worldwide.
Our Mission Statement:
Plastic parameters is dedicated to creating merchandising systems and accessories that will help you position your company to maximize your profitability, deliver an upscale image to your location(s), and enhance the level of shopping satisfaction for your customers.
Our knowledgeable and experienced team, headed by our President, Harold Waldman, is always available to provide suggestions and solutions to your merchandising challenges. No order is too small; no project is too difficult. We are committed to providing our customers with high quality, attractive products, suitable to your individual requirements, and budget. Website: www.PlasticParameters.com, Contact email: dgardner123@gmail.com
Axis Designs & Architectural Millwork, Inc. is a second-generation, family-owned business that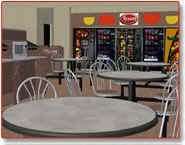 has been manufacturing breakroom and cafeteria furnishings since 1979. From consulting to installation, we can fill the diverse equipment, décor, seating, and furnishing needs of any lunchroom or cafeteria.We provide one of the most comprehensive design, consulting, manufacturing, and installation services available to help you create beautiful, functional food service areas. Browse our site, view our brochure, or contact us to learn more about how Axis Designs & Architectural Millwork, Inc. Visit Website at: www.AxisDesigns.net Call: 1-800-356-4596
Self Service World - Information concerning Kiosks, Self Service industry, ATMs, and much more! Visit our website at: www.selfserviceworld.com
NetWorld Alliance
Louisville, KY 40223
Phone (502) 241-7545
Fax (502) 241-1385

Click on the following links for more Vending Equipment Suppliers:
VENDING MACHINE SUPPLIERS
ATM Machines
Kiosks
Laundry - Self Service Laundromats Coin Op
Water Vending Machines and Water Systems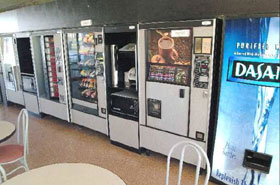 Find a vending service company to place vending machines in your business or office for FREE!
Click on the following links to find a vending machine
service supplier in your area!
Vending Machine Service Operators - USA
Vending Machine Service Operators - CANADA
Vending Machine Service Operators - INTERNATIONAL
OFFICE COFFEE SERVICE OPERATORS - USA