Paramount Financial- Equipment Financing!
Paramount Financial is dedicated to providing competitive equipment financing for businesses throughout the United States. Integrity, honesty and ingenuity are the foundation of our company's products and services. Our pledge is to consistently offer the highest level of customer service possible to our customers and equipment suppliers. Click on Financing Available photo for aplication!

Paramount Financial is committed to providing fast, simple and reliable equipment financing and leasing solutions. By continuously increasing the value-add of our services, we strive to build and maintain long-standing relationships with our equipment vendors and buyers. Our allegiance to providing educational resources guarantees that our customers can make more informed financial decisions, leading to the successful growth of their business!
Contact Craig Colling at: 1-877-948-6200 or local # 480-222-0300, craigc@paramountfinancial.com
Visit our website at: www.paramountfinancial.com.
Firestone Financial - Online Credit application - Finance Terms up to 60 months - Offers 90 days same as cash - (Documentation Fee $75 in most states) - 39 Years in the business - Simple Interest Financing for Start-ups! Call: 1-800-851-1001 or Visit website: www.firestonefinancial.com Email: lyaffe@firestonefinancial.com
FirstLease, Inc

is a nationwide provider of financing for growing businesses. Located in Fort Washington, Pa. they are fully funded by Firstrust Bank, a $2.6 billion privately held financial institution located in suburban Philadelphia. They offer to our customers same-day approval for transactions up to $50,000.
FirstLease's competitive advantage lies with it's ability to be flexible. Their highly qualified credit managers personally review each transaction, which means there are no auto-declines. With flexible credit underwriting, they are able to structure a financing package that fits your particular needs and budget. FirstLease, Inc. - David Maschke
1300 Virginia Drive, Suite 450 - Fort Washington, PA 19034 - Toll Free: (866) 493-4778 ext.246
Fax: (215) 283-9870
Direct Capital Corporation; We finance all types of new and used equipment for your business needs - Including:
Agricultural Equipment -Automotive Equipment Business Computers,
Construction Equipment -Dry Cleaning Equipment -Heavy Equipment,
Industrial Equipment -Medical Equipment -Metalworking Equipment,
Office Equipment -Printing Equipment -Restaurant Equipment,
Software Telecom Equipment and Other Equipment Types.
Main Phone: (866) 777-0117, Client Services Phone: (800) 253-0157

Click on the following links for more vending financing and funding services:

Distributors for Vending Equipment
Loans for business- Capital Financing
Leasing companies for your Vending Equipment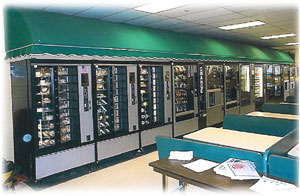 Want to have vending machines in your place of business?
Click on the following links to find a vending service supplier in your area!
Vending Machine Service Operators- USA
Vending Machine Service Operators- CANADA
Vending Machine Service Operators- International
OFFICE COFFEE SERVICE OPERATORS- USA