The Vending Start-Up EKit© contains a complete vending start up business plan in a check list format.
Including budgeting, sample location contract, call script on how to find locations, financing, leasing equipment, How to figure comissions paid to locations, Vending machine servicing tips, FREE demo route management software, FREE brochures for all types of vending machines and more! 100% tax deductible! Click to order.
The Vending Start Up Kit EBook! THE ORIGINAL STEP-BY-STEP BOOK ON HOW TO START AND OPERATE YOUR OWN VENDING MACHINES BUSINESS!

Learn how to start your own vending business with little or no money down and Work from Home! Regular price is $95 for this Ebook that covers all types of vending machines.
START YOUR "RECESSION PROOF" VENDING BUSINESS! FREE VENDING E-NEWSLETTER INCLUDED!

NOW TODAY--- SPECIAL PRICE IS ONLY $75!


YES, IT HAS A SUPPLIERS BUYERS GUIDE TOO! LIMITED TIME OFFER---



"How to Start & Operate Your Own Vending Machine Business" includes:

Developing your new Business

How to Finance your new vending company

What Types of Vending Machines do you want to service?
What it takes to service your new Vending route

Who to buy from (

vending suppliers)
Bonus!! FREE weekly vending newsletter packed with vending gold!
DELIVERED to you within 24 HOURS BY EMAIL
VendingConnection.com has years of experience and expertise packed in this e-book and offered to save you time and money to get your business profiting as soon as possible. Don't accept others claims, this is right from the authority in vending.
*Scroll down for more details of vending information and Table of Contents*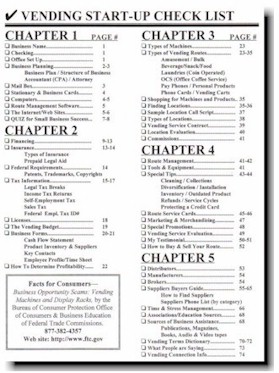 Vending Machines can operate anywhere at anytime!
24–7 (24 days hours a day, 7 days a week) Each day millions of coins are poured through coin operated vending devices. It is a recession proof business! Vending covers a wide spectrum of business opportunities including; Bulk candy, Gumballs, Soda, Beverages, Drinks, Water, Snacks, Office coffee, Food, Amusement games, Arcades and much more! Each type of vending has it's own fantastic business advantages. Automatic merchandising is one of today's fastest growing industries. Fast, Easy and Economical. Every day 7 out of 10 people will place coins or dollars in Automatic Vending Business Machines. The amount of money could range from twenty five cents to twenty dollars "per vend" depending on the types of vending machines you own and operate! This fantastic potential for your new vending business is right at your fingertips...read on...
Frequently Asked Questions - Click here for FAQ's about Vending

Detailed Chapter Information:
NOW UPDATED FOR 2013!
CHAPTER 1 - Developing your new Business - Business Name, Office Set Up, Business Planning, Business Plan and Structure of Your Business. Accounting, Business Cards and marketing, Route Management Software, Vending WebSite resources, QUIZ for Small Business Success.
CHAPTER 2 - How to Finance your new vending company - Financing, Leasing equipment, Insurance, Types of Insurance, Federal Requirements, Patents, Trademarks, Copyrights, Tax Information, Legal Tax Breaks, Income Tax Returns, Self-Employment Tax, Sales Tax, Federal Empl. Tax ID#, Licenses, Your Vending Budget, Vending Business Forms, Cash Flow Statement, Product Inventory, Suppliers, Key Contacts, Employee Profile, Time Sheet, How To Determine Profitability for your vending business.
CHAPTER 3 - What Types of Vending Machines do you want to service? Type of Machines, Types of Vending Routes: Amusement, ATM, Bulk Candy, Beverage, Gumball, Soda, Snacks, Foods, Laundries (Coin Operated), OCS (Office Coffee Service), Pay Phones, Personal Products, Phone Cards, Vending Carts and more. Also, How to Shop for Machines and Products, Finding Locations, Using Locator Services, Sample Location Call Script, Types of Locations, Sample Vending Service Contract, Location Evaluation, Paying Commissions.
CHAPTER 4 - What it takes to service your new Vending route - Route Management, Tools and Equipment supplies needed, Special Tips, Technical Service Tips, Cleaning, Collections, Installation, Inventory, Outdated Product, Refunds, Service Cycles, Route Service Cards, Merchandising, Special Promotions, Vending Service Evaluation, My Testimony, How to Buy or Sell Your Vending Route.
CHAPTER 5 - Who to buy from (vending suppliers) - Distributors, Manufacturers, Brokers, Suppliers Buyers Guide, How to Find Suppliers, Suppliers Phone List (by category), Time & Stress Management, Associations, Educational Sources, Sources of Business Assistance, Vending Magazines, Books, Video tapes. Free Information, Brochures and a Vending Terms Dictionary. The Vending Start-Up EKit contains over 77 pages of valuable information, including ALL TYPES of Vending Machine Business Opportunities!




Limited time offer - NOW Only $75.00!
Your Vending Start-Up EBook will be emailed to you within 24 Hours!
YOU CAN MAKE CASH MONEY DAILY WITH VENDING MACHINES!!

Considering a variety of VendingBusiness start ups, can be Part-Time or Full-Time, you decide.
Toll Free Order Line for USA & Canada 1-800-956-8363
This NEW Revised Edition is Updated for 2013 ISBN # 0-966-70650-1
Looking for More Vending E-Books? Click on the links below for more information!