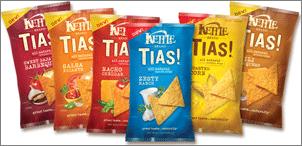 Introducing Kettle Brand®TIAS!™
In last month's Chip Chat, we hinted about some new additions to the Kettle Brand® family. The wait is over and some of you supermarket sleuths have spotted new Kettle Brand® TIAS!™ Tortilla Chips. In six outrageously all natural flavors, TIAS!™ are made for chip lovers who like to snack right out of the bag-no dip required! Made with organic corn, the flavors include Nacho Cheddar, Zesty Ranch, Salsa Picante, Sweet Baja Barbeque, Chili Con Queso and Toasted Corn.
Check out our web store for our special introductory 25% off pricing for a Limited Tiem! You can also find TIAS!™ Tortilla Chips right now at your local Whole Foods and in natural food aisles nationwide.

Having trouble finding healthier snacks and beverages for your vending machines? HealthVend is your answer! now serving the entire USA!


visit website: www.HealthVendUS.com, or email pmeyn@normandistribution.com, Call: 1-847-228-3083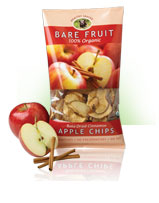 Bare Fruit - Bagged, 2.6-ounce, single-serve snacks are 100 percent organic bake-dried fruit, low in calories, high in fiber and naturally sweet with 29 calories per serving. The company uses a slow-bake-dried process in wood burning ovens. There is no added sugar, no additives, no preservatives, and meets all new state and federal standards for schools. Varieties include cinnamon apple chips, Granny Smith apple chips, dried pears, dried mangos, dried cherries, pineapples and mangos, and bananas and cherries.
Call:1- 800-940-0019 Visit Website: www.barefruitsnacks.com.
Snacks That Score A Flavor Touchdown
Be a great host and stock your party bowl with the best, all natural line-up of Kettle Brand® Potato Chips. The football game experience is not complete without favorites like smoky Backyard Barbeque™, zesty Buffalo Bleu™, fiery Death Valley Chipotle™ and the newest draft to the Kettle Brand® line-up, savory Sweet Onion.
Order any of your Kettle Brand® favorites from our web store in a mix and match 5-pack and receive 20% off your order-now through January 26th. If you rang in the New Year with a weight loss resolution, it's now time to have your chip and eat it too! On shelves now, the revamped Kettle Brand® Baked line is showing off its new look, new name and new Sea Salt & Vinegar flavor. Savor the splash of bold tangy vinegar with a sprinkle of sea salt on a crunchy golden chip without worrying about the waistline.
These baked chips have 65% less fat than regular potato chips and only 120 calories per serving. You're sure to keep your resolution with great flavors like Sea Salt & Vinegar, Aged White Cheddar, Hickory Honey Barbeque and Lightly Salted. www.kettlefoods.com or visit our new webstore: www.buykettlechips.com
Dale and Thomas Popcorn - Introducing Great NEW choices and Flavors in Popcorn prepackaged for your vending machines...Coming in January 2008!
All Natural, Pre-Popped, ready-to eat, Kettle popped, Low Fat, in a Variety of Flavors:
Caramel, Chili Con Queso, Aged White Cheddar, Sea Salt. Call 1-800-767-2676 or Visit our webiste at: www.daleandthomas.com

Click on the following links for more candy, nuts, snacks, foods for vending:
PRODUCT BROKERS
PRODUCT MANUFACTURERS
Deli Foods
Low Carb Foods
CANDY SUPPLIERS
Bulk Candy Product Suppliers
Chocolate
Gum Suppliers- All types
Mints
SNACK FOODS FOR VENDING
Cookies, Crackers
HEALTHY Snack Products
Low Carb Snacks
Meat Snacks
Nuts, Nut Products
Pastries, Bakery foods, Cakes
Salty Snacks
Soy Products
Trail Mixes