Vending Times Magazine -The News Monthly of Vending, Food Service, Coffee Service and Recreational Service. VENDING TIMES addresses the business, legal, legislative and regulatory concerns of companies providing industrial, institutional and public vending, refreshment, feeding and recreational services.
These companies include operators of food, beverage and other merchandise vending
equipment as well as manual foodservice; office beverage and snack delivery systems; and music and amusement equipment and services. We are published 12 times a year. Each issue incorporates the annual Buyers Guide, and many issues include the Census of the Industry as a supplement. Each monthly issue includes sections presenting late news, interviews and coverage of industry events in the Vending, Coffee Service, Music & Games and Bulk Vending sectors; Financial news; and Calendars of trade shows. Visit us online at: www.vendingtimes.com or Call: 1-212-302-4700

Canadian Vending Magazine -
1-888-599-2228 A Canadian vending industry business resource magazine.
Contact Sales Manager - Sharon Kauk



skauk@annexweb.com
Based out of Simcoe, Ontario, Canada.
Click here for our website for more information!
Automatic Merchandiser Magazine - 1-800-547-7377
The Magazine for Up-To-Date Vending news and Information
for vending and OCS professionals.
Amonine.com has been redesigned: Visit: www.amonline.com
or contact Gary.Thom@AMonline.com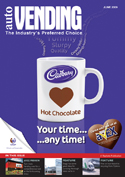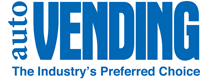 Auto Vending Magazine UK!

Visit website at: http://www.auto-vending.co.uk
Tourists Attractions and Parks Magazine
http://tapmag.com/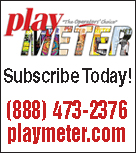 Play Meter Magazine -
1-888-473-2376
The #1 trade magazine for the coin-operated entertainment industry!

For more information visit our website at www.playmeter.com



FREE InfoPak - Coin-Op Repair Solutions - Click here!
The Technical and Informational Monthly for the Coin-Operated Entertainment Industry
STAR TECH JOURNAL has been reporting the technical side of coin-operated games since 1979 when electronics first entered the arcades (remember TTL and flip-flops?). More than 25 years later we are still reporting on trouble areas, fixes, modifications and upgrades to the coin-op industry.
STAR TECH JOURNAL publishes monthly technical journals, back issues, service manuals and tech reports. Most are available from this site via download (direct to your computer), CD-ROM or hard copy.
www.startechjournal.com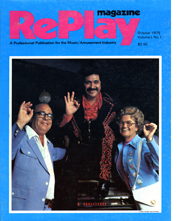 RePlay Magazine - 1-818-776-2880
RePlay Magazine is the leading monthly trade journal for
the coin operated amusement route, arcade, FEC & LBE
owner, published since 1975!
For more information visit the website at: www.replaymag.com.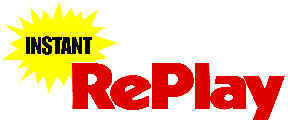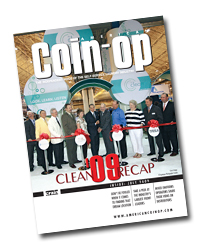 American Coin-Op Magazine -
Serving Coin-Op Laundry store owners and
Drycleaning store owners.
Website: www.americancoinop.com
We also have a Buyer's Guide available.
Paul Partyka, Editor, ppartyka@crain.com, 312-397-5507
Brett Carr, Western Sales Manager, bcarr@crain.com, 312-397-5504
Donald Feinstein, Eastern Sales Manager, dfeinstein@crain.com, 312-397-5502
The Journal - Coin Operated Laundries Magazine - www.coinlaundry.org

Entrepreneur Magazine - Stay clued in on essential business news, business start ups and latest trends for entrepreneurs. http://www.entrepreneur.com
How to start your own business and so much more! Call 1-800-421-2300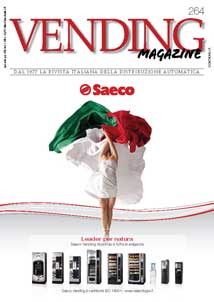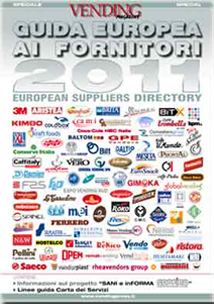 Vending Magazine - (+39) 011-6602900
The Journal of Italian Vending Machines since 1977
Vending Magazine (Monthly)
European Guide to Suppliers (Annual)
3000 copies each distributed to Italy and abroad.
For more information visit the website at: www.vendingpress.it
Vending Management is the best selling vending-magazine in Germany (20.000 distributed copies per issue).
As a trader in vending-business, Vending Management is your first address for canvassing & information about manufacturers, operators of food and beverage machines as well as for product suppliers active in Germany, Austria and Switzerland.
Vending Report - The leading vending business magazines in Europe! We offer vending magazines for 7 different European Countries! Visit our website at: http://www.vending-report.com
The Vending Start Up Kit!

THE ORIGINAL STEP-BY-STEP BOOK ON HOW TO START AND OPERATE YOUR OWN VENDING MACHINES BUSINESS! Learn how to start your own vending business with little or no money down and Work from Home! CURRENT SPECIAL ONLY $99.95!! - Includes: FREE VENDING BUYERS GUIDE ($54 value) and FREE SHIPPING ($25 value) WITH VENDING START UP KIT PURCHASED TODAY! LIMITIED TIME OFFER-- CLICK HERE for more info! or
Call 1-800-956-8363
today to order over phone!
CLICK HERE FOR MORE VENDING PUBLICATIONS
listed on The Vending Yellow Pages Directory!