INTRODUCTION: The Vending Business has a wide variety of opportunities to fit your needs. You can start your new vending business Part-Time or Full Time. Vending Connection has developed an informational website updated daily for your resources. Along with a step-by-step guide, that will help guide and inspire you to take the time to learn what you can do to develop and build your new business. "The Vending Start-Up Kit" has been designed to educate you before starting your new business! Also, to help eliminate the reported number of vending scams, our goal is to be "The Welcome Wagon" into the world of vending, also serve as a refresher course for the existing vendor. In an ever changing economy and job market, people are beginning to realize that knowledge is power. You may be stuck in a dead-end job and the catch word on your supervisor's lips is downsizing. There's no need to quit your present job while you learn about vending, plan to advance and start your own business. You have a choice. With vending, we are offering a step-by-step check list and "how to" reference guide to help you, in your learning venture. ABOUT THE COMPANY The Internet is a vast array of knowledge...we are continuing to compile information to simplify your vending search.
BECOMING AN ENTREPRENEUR: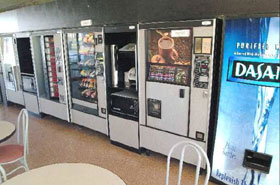 The long cherished notion of getting a job that would provide both long term security and benefits is close to disappearing in the American workplace. It is no surprise that more people today want to do "their own thing". Vending is one of the final frontiers. Since you are considering starting a business, you belong to a large and growing group of people frustrated with their present jobs. The word entrepreneur is a French word meaning 'enterpriser'. It is best described as a person who sees an opportunity in the marketplace and decides to take advantage of it. He or she gathers the material and markets this vending service to fill a need of the customers.

PLAN YOUR WORK AND WORK YOUR PLAN!

The forty hour work week became the standard in this country during the 1930's. It is interesting when we observe that entrepreneurs work an average of sixty hours per week and still report to be happier than the average employee working 1/3 fewer hours. How can this be true? People are happier in their work if they have control over what they do. Happy people are also healthier people, and there is no better time than now to start a change in your life and put yourself in control of your own destiny.
Choose machines that are: reliable, easy to service, easy to locate, caters to the people on location (products that they want), and gives you an outstanding return on your investment.

VEND TRENDS-FACTS AND FIGURES:


The name of the game is financial success and Independence with vending!
1) A department of commerce study revealed that fewer than 5% of new vending companies fail each month, compared with a 65% failure rate by the Small Business Administration, for independent, new business start up. Vending can be a very profitable business!
2) The main motivation for getting into any business is "money". The only common aspect of every business is money. That is what business is all about. Vending allows a person to invest 10 to 20 hours per month and get a return on money invested 100% to 200% in the first year. This is 10 times what they would get at a bank with a CD or Money Market account.
3) Money follows financial independence. Vending allows 95% of start-up to go for machines and product. Your home can be your office. This allows lots of possible tax write-offs that other people never receive.
4) 70% of vendors start off on a part time basis, keeping a full time job, and checking their machines and servicing them after work or on weekends. This allows their money to work for them while they keep their present jobs. 85% of them turn to full time vending after two years. Money does allow freedom. We might wish that our economic system operated differently, but it doesn't. Having money or not having it largely controls what we do in our lives. Vending can give you that independence.
Not only is the greatest growth of vending ahead of us, but also the greatest diversification of vending is yet to come. Here are just a few reasons why Automatic Merchandising "vending" is literally exploding.
- The high cost of labor in personal selling activities makes Automatic Vending a more interesting alternative.
- The movement of population to suburban areas, plus the desire for more convenience in location and time of purchase makes vending appealing.
- The trends towards more impulse purchasing by customers will benefit the growth of this industry.

"The Vending industry has seen an extreme amount of growth over the last few years. With vending consumers wanting products, fast, convenient and economical. Vending offers new entrepreneurs a way to start a business and grow quickly. Snacks, Beverage, Candy and Food vending machines continue to be the most lucrative and stable in the market place. Cashless vending is now available for vending machines, swiping a debit card for added convenience when no change in their pocket. Vending is a Billion Dollar industry, stable and growing."
--- Karen Scott - VP of Production and Sales




CONSIDER THESE POPULAR VENDING MACHINE BUSINESS OPPORTUNITIES:
Bulk Candy Vending, Gumballs, Capsules, Soda Vending, Snack Vending, Office Coffee Service or Coffee Vending Machines, Small Combo Machines, Concession stands, Crane Game Machines, Deli Vending, DVD Vending, Family Fun Centers, Food vending, Full Line Vending, Healthy Vending, Honor Snack Boxes, Hot Dog carts, Coin Op Laundry, Personal Products, Phone Card Dispensers, Slots, Stickers, Tattoos, Toys, Video Games, Specialty Vending Mobile Carts, Bottled Water Vending, Amusement Entertainment Machines, Arcades, Coin op Car Washes, ATM machines ...and the list goes on!

HERE ARE A FEW WAYS TO START Your New Vending Business:
1) Lease your equipment, whether the machines are new or used. Add one or two vending machines at a time. You can build your vending business slowly, with good high traffic locations.
2) Purchase established routes (from someone retiring or getting out of the business). The existing vending business will be currently set up with machines on locations, suppliers of products, along with the procedure of filling each type of machine and pricing of the products. The Vending Route seller should provide some sort of training.
3) Purchase used equipment from other vending operators or distributors. Try it first and see if vending is for you. Research trade magazines, classified ads, or call local distributors for new and used equipment for sale at the lowest prices.

IF IN DOUBT OF THE COMPANY YOU ARE ABOUT TO BUY FROM - Contact:
FTC - Federal Trade Commission Web site - www.ftc.gov 877-382-4357
National Fraud Information Center Web Site - www.fraud.org 800-876-7060
BBB - Better Business Bureau - www.bbb.org
SBZ - Small Business Association - www.sba.gov 1-800-U-ASK-SBA
USA Government Questions - FirstGov.gov TM is the U.S. government's official web portal:
Office of Citizen Services and Communications, U.S. General Services Administration -
1800 F Street, NW, Washington, DC 20405.
If you have questions about the USA federal government, Call 1-800-333-4636.

TYPES OF VENDING BUSINESS SUPPLIERS:

MANUFACTURERS are the companies that actually manufacture the products or machines. Usually selling through distributors or brokers. Occasionally selling directly to the vending operator at discount prices.
DISTRIBUTORS sell machines and/or products directly to you in your area. Some distributors may have products and vending equipment in stock with warehouse space, assisting you with vending equipment, product, parts, and financing.
RETAIL WHOLESALERS are a specific kind of retail distributor. Often a retail wholesaler has a large, easily accessible inventory that they will resell to the public at wholesale prices. Well known retail wholesalers such as Sam's Club or CostCo Wholesale, which require a membership to purchase products.
BROKERS act as middlemen between manufacturing companies, retailers or distributors, often buying a product and selling it to the smaller local vending business vendor.

BUY AND EXISTING VENDING BUSINESS
HOW TO SELL YOUR VENDING BUSINESS



Just a Few of Our Happy Clients!
"Hello to you on this Marvelous Monday. I just want to say that your testimony is very encouraging. I am 44 and I am ready to get into the business. I have your start up kit and it is very informative. My question is when you buy the machines will someone show you how to work them, etc. I am planning on purchasing one machine after I find a good location. I desire to make extra money for our household and then later let it become my full time job. Thanks again for sharing your testimony. It just shows when you put your heart into it can be done. I want to be an entrepreneur so I can spend more time at home with my grandbaby. Have a blessed day." -------Sister M.
"I shall return..look for me to order your book in the near future. I want very much to get started but I realize now that I need to study a bit. I am very thankful that I have found you. I also give to local charities, now this can give me more seed to sow."
-----Thank you, Michael ----Maysville, NC

"I was looking for a hobby to get into which would bring in some extra income. Vending looked like a good idea. I bought the
start-up kit and last winter and it has been a very valuable tool in helping me to establish routes and negotiating
other issues which I never would have even imagined, such as inventory and cash control systems. Thanks to the author for putting together this much needed publication." -----Vending Entrepreneur from Hoboken, NJ

"Once in a great while, I find a product that meets or exceeds its advertising promises. Your handbook, The Vending Start Up-Kit, is one of those. Your information is concise, easy to read and up-to date. I especially like the plastic sheet protectors that keep the pages neat and free from damage. I have limited vending experience and few contacts in the industry, so you kit has been very helpful in finding resources for products and information. I am certain that I have saved thousands of dollars in mistakes by reading your handbook. Thank you very much for your interest in my success!" -----Bob Kinkade

"The majority of the people who will become financially independent in the next 10 years won't do it through real estate or inheritance. They will do it by starting their own business." -----The Wall Street Journal



Searching for a Vending Machine company to place vending machines in your business?
Click on the following links to find a vending operator in your area!
Vending Machine Service Operators- USA
Vending Machine Service Operators- CANADA
Vending Machine Service Operators- INTERNATIONAL

CONSIDERING VENDING MACHINES FOR YOUR BUSINESS?
Facts you should know about vending...

Vending machines are machines that dispense food items, beverages, toys or other items for a fee. Generally coin operated. Vending machines can hold many different types of items, such as cold drinks, coffee, candy, cookies, sandwiches, cigarettes, bubblegum, gumball's, newspapers, ice cream, ice, healthy foods, soda pop, water and snacks. Most vending machines are coin operated, but some operate with a lock and key, or by code. You can find vending machine companies by looking online for one near you or by checking your local phone book.

Consider first which types of vending machines you will need for your business. When choosing a vending machine company or franchise, research the various types of vending machines available. Check out several different vending machine companies and their backgrounds.
Target vending machine companies that offer the specific type of machine you may want, such as; snacks, sodas, healthy food, crane, mini atm's, manual, automatic, personal, combos or bulk vending machines for capsules and stickers. Also, soda in cans, snacks, healthy products, juice beverages, and coffee vending machines.

Find out how long the companies have been in business, what their hours are, and what their service availability is. Ask how often the vending machine company representative will come by to refill items. Work out a schedule in advance and get it in writing.
Find out if the company or franchise is properly licensed, and get written quotes and prices for all services. Inquire as to what type of vending machine services are available, such as repair, as well as accessories such as labels.
Check www.bbb.org for any reports about the vending companies you are considering. Where you can find online reviews.
Vending Machines are a valuable asset to any business, keep your employees happy, with the products and drinks they love!
Search The Vending Yellow Pages Directory of Vending Company Service Operators.