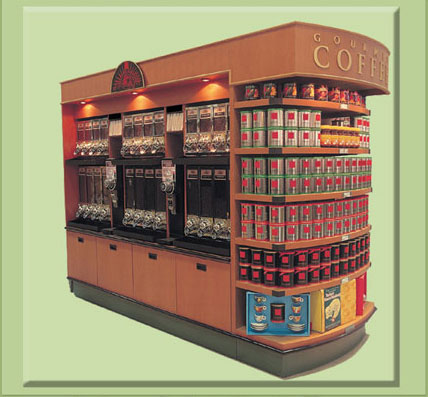 Plastic Parameters Inc. has been designing and manufacturing whole bean and brewed coffee merchandising systems and accessory products since 1995. Our products can be seen in grocery stores, supermarkets, convenience stores, gas bars, coffee shops and anywhere else where whole bean and /or brewed coffee is sold. Based in Canada, we ship worldwide.
Our Mission Statement:
Plastic parameters is dedicated to creating merchandising systems and accessories that will help you position your company to maximize your profitability, deliver an upscale image to your location(s), and enhance the level of shopping satisfaction for your customers.
Our knowledgeable and experienced team, headed by our President, Harold Waldman, is always available to provide suggestions and solutions to your merchandising challenges. No order is too small; no project is too difficult. We are committed to providing our customers with high quality, attractive products, suitable to your individual requirements, and budget. Website: www.PlasticParameters.com, Contact email: dgardner123@gmail.com

SmartVend Vending Machines
are a new patented all-in-one vending machine named Neo. It is smarter and simpler than any other machine in the market. it has more than
90 different drink combinations
in it and serves also hot and cold drinks.
The NEO are the flagship machines of the
SMARTVEND Company
. They present a line of revolutionary features which makes them champions of the field of drink vending machines. NEO are big on performance, small in dimensions, and giant in capacity.
Machine dimensions are: width 55cm, depth 64cm, height 184cm
Capacity: 900 cups (180cc), 12 powder containers, holding approximately 4 kilos per container, and 2 liters of fresh milk.
NEO offers a giant selection of drinks - up to 90 different types of drinks. A first in the world of vending machines - the ability to dispense fresh milk, mixed with grains and croutons. Email info@smartvend.co.il Phone: +972-523-963487 - Movie http://www.smartvend.co.il/en-us/movie.htm


Want to find a coffee service company for your office or business?
Click on the following link to find a COFFEE service supplier in your area!
OFFICE COFFEE SERVICE COMPANIES - USA
OCS Ebook - Find out how to start and operate a New OCS Company: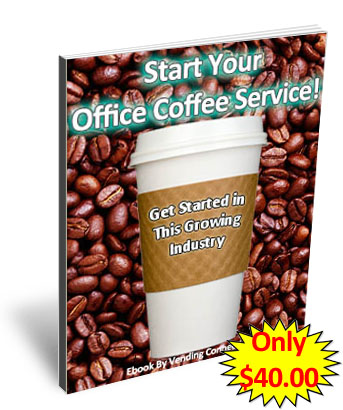 An OFFICE OFFICE COFFEE SERVICE company provides offices with a supply of; hot beverages, coffee, coco, tea, also including the coffee brewer machine(s), plastic cups, creams, milk, sugar, stirrers, and additional products if needed such as espresso coffees, cappuccinos, instant soup mixes, etc.
A coffee service is offered to businesses, corporate offices, industrial warehouses, auto shops and so many more locations.
LOW COST START UP!
Click here for more information and how to order the Office Coffee Service Ebook!

NAMA Coffee Service Association - Coffee Service is a fast paced growth channel; between 2002 and 2007 revenue growth has posted a 53% point gain. This comes from the marketing research firm, Datamonitor. They are also forecasting additional growth of 36% over the next 5-year period (07/08 State of the Coffee Service Industry-Automatic Merchandiser). In the 2007 State of the Vending industry Report 35% of the operators surveyed said their business expansion plans included adding coffee service.
Coffee drinkers are passionate and they are asking for better coffee in the work place. Single cup coffee is offers great variety and a quality cup of coffee. Standard batch brewers give you the opportunity to increase your pack weights and provide a premium drink for pennies per employee. Both of these options will enhance the experience your coffee consumers enjoy in the workplace.
For details regarding the Quality Coffee Certification Program (QCCP), please click here.
NAMA Coffee Service website - www.namacoffeeservice.org
We welcome your input, your ideas and your comments. You can contact me at 312-346-0370 ext. 228 or email me at rstewart@namacoffeeservice.org. Roger J. Stewart, NCE ---Enjoy a good cup coffee everyday!
Click on the following links for more Coffee Equipment Suppliers:
Coffee and Tea Suppliers
Coffee Carts, Espresso Carts
Coffee Brewing Equipment and Coffee Dispensers
Coffee Product Supply Companies
Concession Trailers, Concession suppliers
Hot Drink Vending equipment (New or Used)