FREE InfoPak - Coin-Op Repair Solutions - Click here!


The Technical and Informational Monthly for the Coin-Operated Entertainment Industry
STAR TECH JOURNAL has been reporting the technical side of coin-operated games since 1979 when electronics first entered the arcades (remember TTL and flip-flops?). More than 25 years later we are still reporting on trouble areas, fixes, modifications and upgrades to the coin-op industry.
STAR TECH JOURNAL publishes monthly technical journals, back issues, service manuals and tech reports. Most are available from this site via download (direct to your computer), CD-ROM or hard copy.
www.startechjournal.com
THE COIN-OP AMUSEMENT EBOOK© ONLY $50.00
ISBN# 0-9667065-5-2 THE COMPLETE GUIDE TO START YOUR OWN COIN OPERATED AMUSEMENT MACHINE BUSINESS!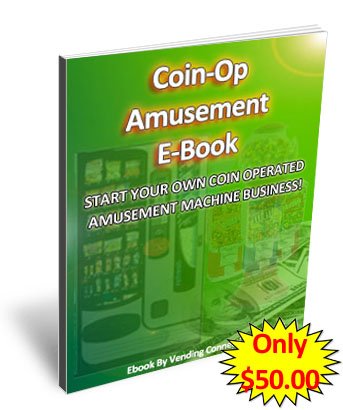 This Coin-Op Amusement Start-Up EBook contains: Amusement Coin operated machines offer a wide variety of opportunities, lucrative cash flow, read on...
TYPES OF AMUSEMENT MACHINES Includes: Arcades, Batting Cages, Basketball, Billiards, Crane game machines, Darts (Electronic), Family Entertainment, Golf, Juke Boxes, Kiddie Rides, Photo Booths, Novelties, Pinball, Pushers, Tabletop Touch Screen, Slots, Schuffleboard, Skee ball, Video Games, Weight Scales, Sports amusement machines, Gamerooms and more!
Also Includes information on: Advantages of Charity Sponsorship, Commissions, Expenses, Buying Product, Products that you can Vend, Special Tips, Record Keeping, Your Budget, Route Management Software, Location Evaluation, Location Call Script, Types of Locations and how to find them, Servicing your amusement coin op machines, Sample Equipment Service Contract, Financing or Leasing your equipment, Insurance, Quiz for Small Business Success, My Testimony, Amusement Dictionary and Coin-Op Amusement Suppliers Phone Guide included!

Click here to order! OR CLICK HERE FOR MORE INFORMATION.